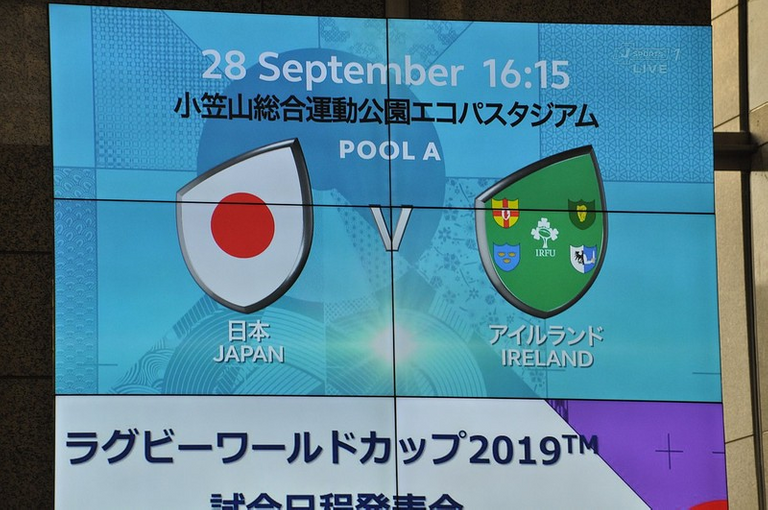 A bit of a shock at the Rugby World Cup with Japan beating Ireland 19-12. Ireland got off to a great start leading 12-3 at one point but could not add to that score and Japan roared on by 50,000 home fans duly got the win.
Japan probably should have extended their lead in the final minutes with what looked like an interception try. However Ireland's defence managed to somehow get back and make the tackle, which gave them a lingering hope of snatching a draw with a converted try.
There was it seemed a bit of a mix up by Ireland at the end of the game, they kicked out with the clock in the red zone, ending the game and handing victory to Japan. However they were deep in defence and by ending the game within 7 points of Japan they secured the losing bonus point, something that might be incredible vital when all the games have been played.
The pundits were talking up a possibility of Scotland, Ireland and Japan all ending up with 3 wins and a loss and therefore bonus points may be the deciding factor. However I can't really see Scotland beating Japan if I am honest but it will be a crunch game that is for sure.
This blows group A wide open, though my money would still be on Ireland to qualify. The big match now though in this group has to be Scotland v Japan. After losing their opening game to Ireland, Scotland will now sense a real chance to get back in the mix. Having said that, beating Japan will be no easy task, they are on a roll and have the crowd behind them.
I use flashscores.com which is normally very good and reliable, however there were some strange penalty notifications in this game, not sure what went wrong.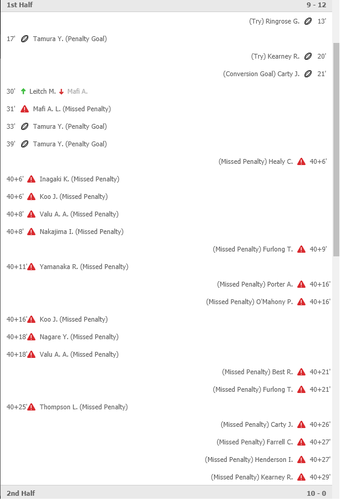 In England's group, Argentina beat Tonga 28-12 and I now really expect England to have a tough time when the play them, Argentina lost narrowly to France and with England's constant handling errors I can see this one being close as well. Argentina have to win this match to have a hope of qualifying and although it wouldn't be the end of the road for England if they lost, their last match would be against France. This is not the must win match you would looking to play to qualify for the next phase. An England win however and qualification is certain.
On the betting front England have moved in ever so slightly from 6 to 5.9 to lay probably due to the shock Ireland win, however as I a writing South Africa are racking up the points and have come in to 5.5 to lay. New Zealand are still the out and out favourites to win the Rugby World Cup.