BROCFML Season 4 - Week 4 is Live! Madden Connected Franchise Mode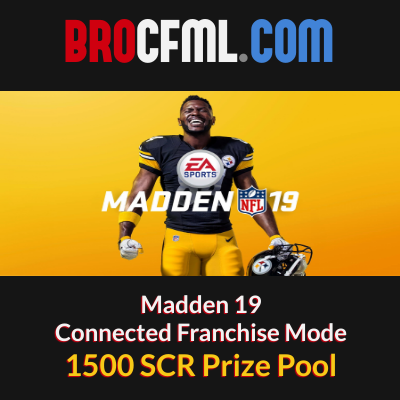 Season 4
The BROCFML is back in action and midway through Week 4. Catch all the action live over the next few weeks on our Twitch stream below or on BROCFML.com. This season we have a 1500 SCR (Scorum) Prize Pool thanks to a kind contribution from @michaelluchies.
Sponsors
Want to sponsor a Weeks worth of games and have your Website, Blog, Name or just about anything you want added inside Madden? We can do that!
We along with others in the Madden Modding Community have heavily modified Madden to play how we want it, not just with settings, we've completely modified everything from pass trajectory, blocking, running, catching, play calling, you name it and it's probably been modified! And we can put your advertisement RIGHT IN THE GAME!
This weeks Sponsor is Scorum.com ...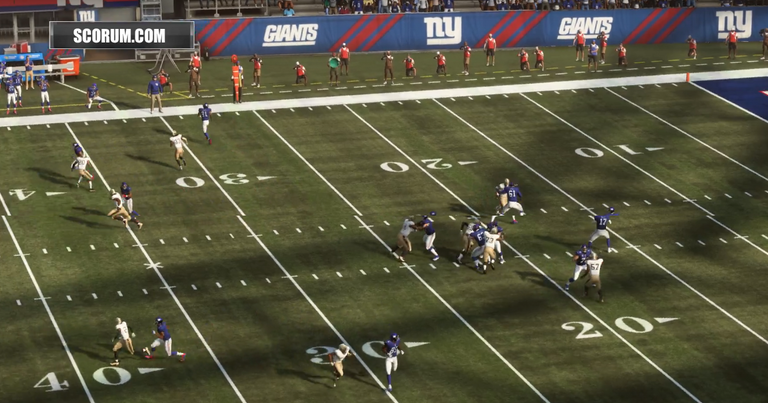 There are several areas we can use, but we chose the Highlights for the most prominent position so Clips created on Twitch will show our Sponsor to even more people. Clips are the most viewed Twitch videos. And in the future we plan on adding Custom Field logos, Stadium Ads and Uniforms with custom logos to further enhance the visibility to our Sponsors.
For more information on becoming a BROCFML Sponsor contact us at @brosgn or in the BROchat.
Watch Live
---
Support the BRO Sports & Gaming Network™
Here are the many ways that you can support BROSGN's efforts to continue delivering exceptional sports and gaming platforms:
Follow us and upvote and resteem posts from @brosgn, @brosino, and @bro-poker
Try out our fun, randomized voting bot, @bro-rando
Delegate some Steem Power to @brosgn or @bro-rando
Donate directly to @brosgn on Steem
Approve @ats-witness and @guiltyparties as Steem witnesses
Become a sponsor/advertiser at the BROsino and at the BRO Poker tables. (Contact us for more details.)
Download and use the Brave browser using our super-awesome referral link: https://brave.com/bro191 . You can also set up monthly tipping for brosgn.net - a verified Brave publisher - to send us a share of your free monthly BAT distributions. And if you enable ads in your browser settings, you can even earn some BAT currency while you play!
---
---