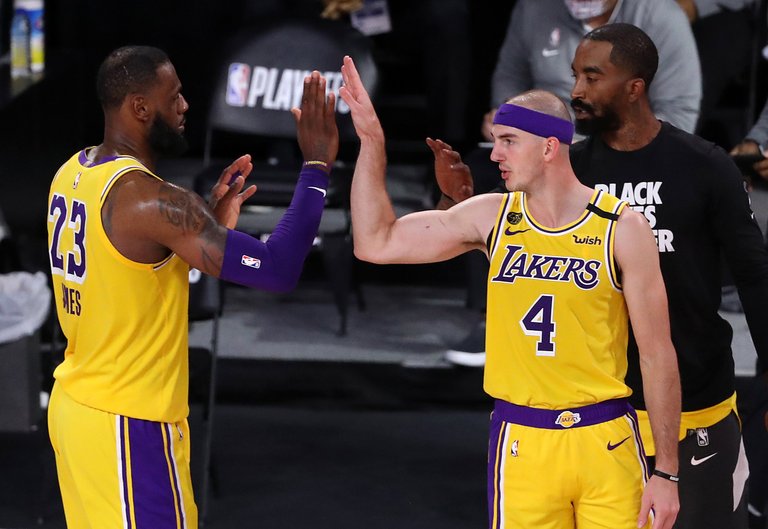 The Los Angeles Lakers have taken down the Houston Rockets in Game 4 of the best of 7 series. The Lakers are now one win away from getting back to the Conference Finals. The NBA Playoffs is now unfolding, and it is looking like a battle of Los Angeles will be set, as both LA teams lead their series 3-1.
The game ended with a score of 110-100, with the Lakers leading most of the way. The Rockets gave them a late scare as they cut the lead to 5 in the dying seconds of the 4th quarter, but the Lakers were able to hold on and win by 10.
Anthony Davis led the scoring for the Lakers with 29 points, and added in 12 rebounds and 5 assists. LeBron James with again a near triple double as he had 16 points, 15 rebounds and 9 assists. Rajon Rondo also with a near triple double with 11 points, 10 rebounds and 8 assists. It was a whole team effort by the Lakers as everyone from the starters and the bench were able to contribute. The Lakers had 6 players scoring double figures.
It was another tough loss for the Rockets, as franchise star James Harden struggled throughout the game. Harden scored 21 points shooting 2-11 from the field. The Rockets lacking a rim protector with their lineup ended up giving away a ton of points in the paint in the game. Russell Westbrook led the scoring for the Rockets with 25 points, Eric Gordon added 19.
Game 5 will be played on Sunday, September 13, 2020.
Opinions and Prediction
I think the Lakers will close it out on the next game. Houston has no answer to Anthony Davis inside the paint. The Lakers also were successful in stifling James Harden in the game. I can't see the Rockets winning another one.
How about you who do you think will win Game 5? Let's discuss in the comment section below.
Photo Credits