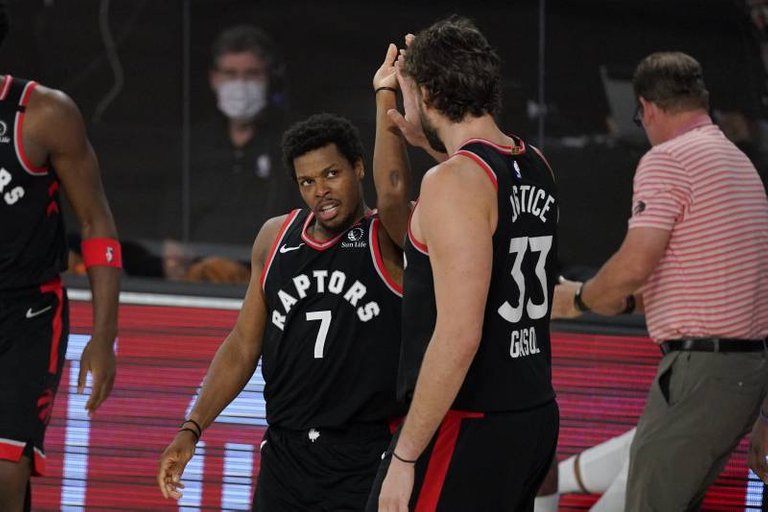 The Defending Champions Toronto Raptors live another day, as they closely outlast the Boston Celtics in Game 6 to tie the series at 3 a piece. The Raptors won with a score of 125-122 in Double Overtime.
It was a close contest through out the game as the teams battled it out. The Raptors were able to pull away in the third quarter, but the Celtics responded with a run in the 4th quarter, with the score tied at 98 a piece. After regulation it was still a tight game until the final minutes of the second overtime, where Kyle Lowry and Norman Powell hitting clutch shots.
The Celtics, and Raptors players looked exhausted in the win with some of their starters playing 50+ minutes in the game.
Kyle Lowry led the way for the Raptors with 33 points, 8 rebounds and 6 assists. Norman Powell added in 23 points, and Fred VanVleet added 21 points, 9 rebounds and 7 assists.
For the Celtics the trio of Jaylen Brown, Jayson Tatum, and Marcus Smart led the way. Brown had 31 points, 16 rebounds and 2 assists, starting hot at the start hitting multiple threes in the game. Tatum added 29 points, 14 rebounds, and 9 assits, while Smart with a triple double 23 points, 11 rebounds and 10 assists.
Game 7 will be played on Saturday September 12, 2020.
Opinions and Predictions
That game was awesome, it was back and forth, both teams didn't want to lose and it showed, and it was down to clutch shots. Game 7 will be a great game to watch, who will want it more.
For me I will be going with the Celtics to win Game 7. I think they will have that edge the next game, and eliminate the Defending Champions Toronto Raptors, and face the Miami Heat in the Eastern Conference Finals.
How about you what do you think about Game 7? Who will win it for you?
Photo Credits
https://bleacherreport.com/articles/2908419-toronto-raptors-are-writing-their-own-story-to-keep-title-defense-alive