That's me...Yeah I know...I can't help looking that way and surgical enhancement isn't my way, so I battle on and accept me for me. The keen-eyed observer may note more grey in this photo than when I first started blogging on steem but the passage of time waits for no one and so again, I just accept it. I'm an ancient 49 years old and so one has to expect me to look my age.
I took this today just before I headed down the valley into my gun range. I was heading there for some practice training today with a couple of my mates. The trainer is a mate also however he was more instructor than mate today; OK by me...I like improving my skills in all areas and a little training today will help me when I head into competition shooting. There's no point doing a sport, in my opinion, unless one enjoys it, and continually improves against the most fierce of competitor...Oneself.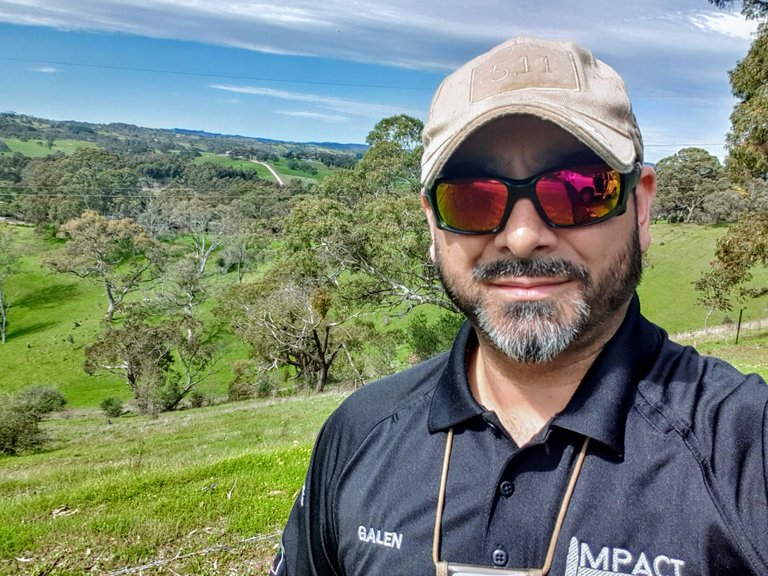 We were focusing on focusing today.
What I mean there is the skill of looking where you're shooting. It sounds funny considering one needs to see where they're shooting to be accurate in the first place, but what I mean is focusing on where the bullet needs to go.
Better accuracy is rewarded and if you take a look at the standard IPSC target below you'll see dotted outlines on the target. I've marked the different scoring zones, A, C and D or Alpha, Charlie and Delta. A miss is called a Mike. This target is sort of torso sized and accuracy is rewarded with better scores.
In the division I shoot in A=5, C=3 and D=1 point. The overall score is also determined by dividing points gained by elapsed time start to finish. So, me gaining 43 points in 4.52 seconds with no penalties gives me a hit factor of 9.51. [Points minus penalties divided by elapsed time]. Someone shooting the same points in 4.42 seconds would win with a hit factor of 9.72. So, accuracy and speed is very important. Alpha's are important.
We ran several drills including, initially, drawing and shooting at a blank target; The one you see here. Draw and double tap...So, two rounds in quick succession. You can see the majority are Alpha's. You will also see a black texta mark in the centre. We added this after our initial shots giving the eye something to actually focus on...The black dot. It was amazing how the shot-groups became tighter because highlighting the importance of focusing on where you want the bullet to land. Of course many, many other factors come into it like grip, stance, trigger-pull, front-sight focus and the like but for the purpose of my point I'm simplifying it...And there are no guide-dots in competition.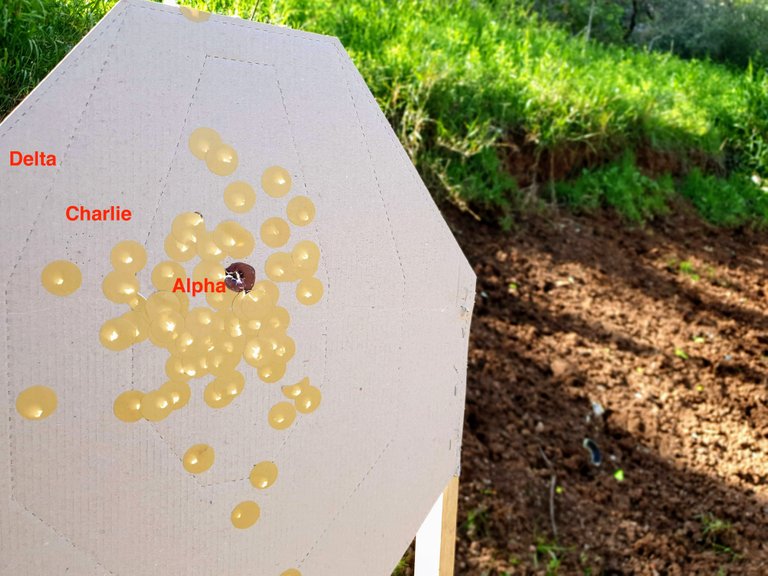 During the drill we were shooting from about 15 metres at this target which is roughly chest-sized. In competition steel targets are also used.
From here we began to introduce multiple targets and movement as the sport of IPSC is highly mobile (dynamic). We added in three targets from 5-15 metres in range and a fourth at about 22 metres off to the left. And...the groups opened up again. Still mainly Alpha's but with a scattering of Charlie and Delta's. This exercise was also timed and it makes a massive difference having a timer over your shoulder.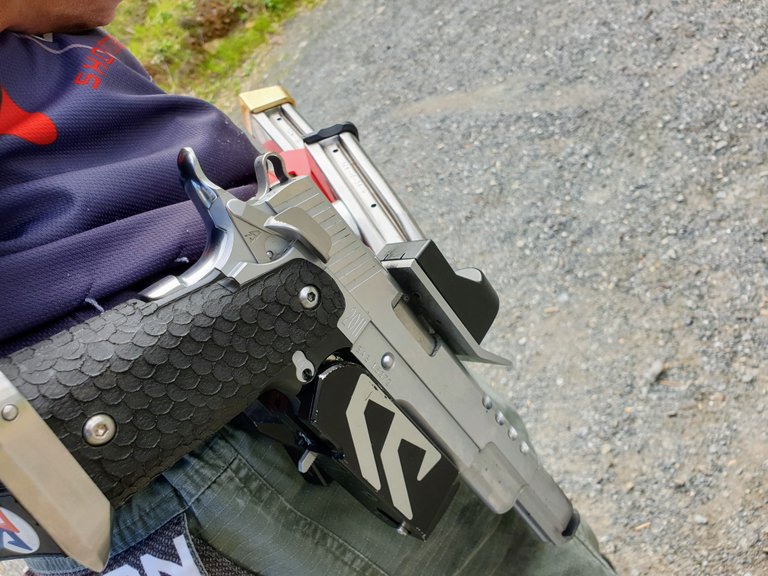 Here (top) you can see the three targets mentioned above...The fourth is not the one on the left, the fourth was way over to the left off camera. The lad shooting here is a Master meaning one of the best in the country, literally top three or four out of several thousand in his division. I always want to break his fingers after he shoots because he is very good and makes us all look like amateurs. Fortunately he shoots in the Open Div and I'm in Production so I don't compete against him directly. The bottom image is his holstered handgun. He's a good mate...I'd never break his fingers...A leg maybe though.
Today wasn't designed around fun, although shooting like this is fun. Today was a serious training session and I came away a little better than I was, learned something I didn't know about my personal shooting and will practice those things at home. Practice and training are different things to me.
Wondering what I learned? Well, I changed the spot on my trigger-finger that rests on the trigger. I was using the soft pad of my right index finger which is the part I use when long-range rifle shooting...It turns out I am way more accurate with the trigger sitting in the first joint of my right index finger allowing for a better grip on the handgun as my right hand is placed a little further around allowing my left to have a more positive grip. Also the trigger-pull itself can come straight back rather than very slightly pushed left which was causing a lower percentage of Alpha's (low and left hits). It's pretty technical and really only training sessions like this are the way to identify minor issues like this one.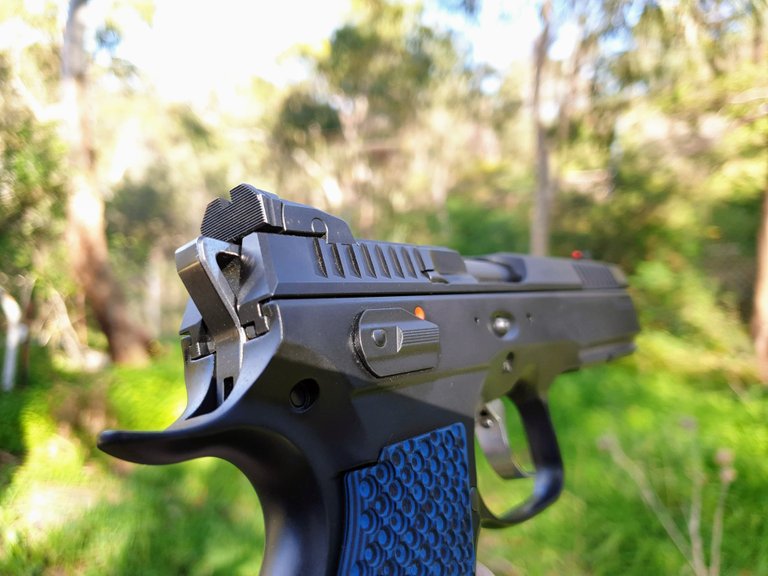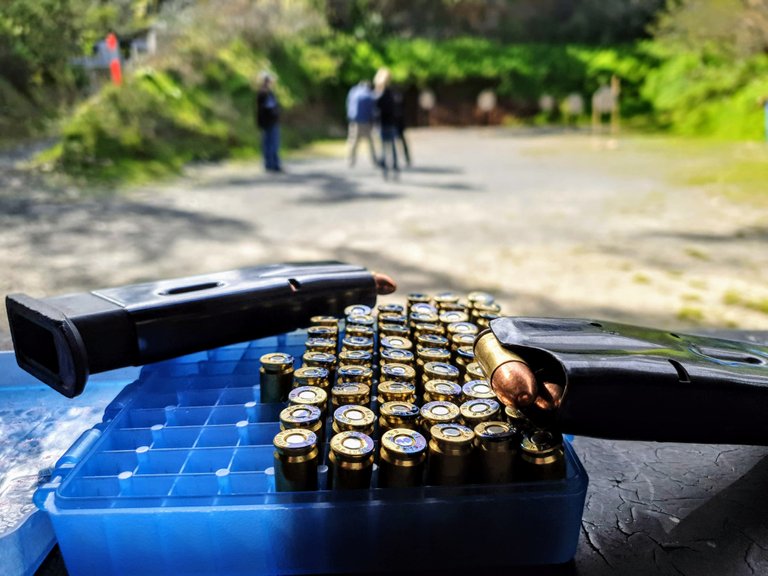 A couple of pictures I took showing my Shadow 2 and some rounds and magazines.
I shot about two hundred rounds over the course of about 3 hours with instruction, discussion and trial and error along the way. I'm certainly not the best practical shooter around however am very confident when shooting. I can draw, aim and fire rapidly and whilst I might not get one-inch groups each time I'll accept one to three-inch groups as being legit. I don't miss much and knowing I can place a round within e one to three inch group quickly and repeatedly brings much confidence.
My range is a military range and so there's many serving and ex-military types there; Not much law enforcement people though surprisingly. I have several friends who are cops though and I often find it amazing at how little they train or practice. Once a year is it and they may fire a couple hundred rounds and have to qualify over very close range, static positions and with little pressure. They don't even have an assigned handgun at the station...They just grab whatever is there!
This doesn't fill me with confidence considering they're supposed to be able to use them in a real-world situation. I don't know what it's like in outer countries however here police don't have the greatest reputation for accuracy. One such incident that comes to mind is when a female police officer opened up on a knife-wielding man in a shopping centre and whilst she somehow managed to shoot the man she also cleaned up three shoppers, one of them an elderly lady. All four survived as far as I know. Just one example where shooting small groups could come in handy.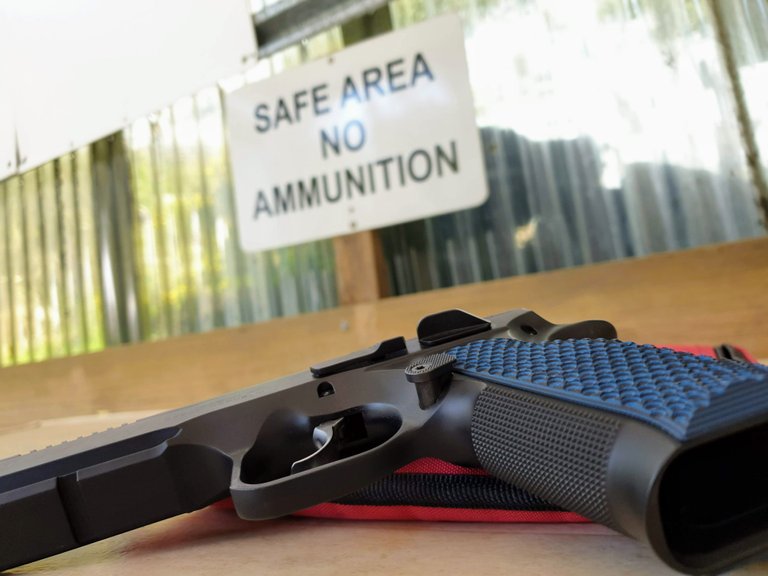 In sport shooting the pressure to compete well, time-pressure, exertion, problem solving, strategy, movement of shooter and targets are all applied to keep the shooter under constant stress and to provide challenge. It is for those things we train and practice and thousands of rounds are sent downrange each year in practice and training so that I can draw, aim and fire with speed, accuracy and confidence. If only other's in general population who are legally allowed to carry, and use, their firearms were regulated to do the same. Anyway, it's not going to happen and so it's only a matter of time before another incident occurs. Don't get me wrong, I respect the this blue line, I just don't agree with the idiot-government's policies. Shooting accurately is not something that comes easily, it takes time and effort.
I was very pleased with today's training and I came away with more to practice. I do a lot of dry-firing at home, that is, standing in my garage or house with my holster rig and gun on practicing drawing, aiming (at small dots on the walls) and trigger-pulling to teach muscle-memory and good habits. There's nothing like live-fire though.
Have a good weekend y'all. Thanks for reading.
---
Design and create your ideal life, don't live it by default
Discord: @galenkp#9209 🇦🇺