Along with this milestone, I'd like to discuss a couple of topics that will likely have a large say in the successful future of sportstalksocial.com.
source - unsplash
---
100,000 Staked - 99% purchased
Earlier today, I bought yet another batch of SPORTS from the market on steem-engine.com to bring my current staked SPORTS tokens to just over 100,000.
This will be my 8th post tagged #sportstalk and as yet, I have not received a reward for authoring and the cost of investing into SPORTS has totaled about 600 STEEM.
My reasons for the investment into this token/tribe, which has totaled much more STEEM than any of the other tokens available on steem-engine.com is because I am a sports fan, both as a participant and a viewer.
I see sport, with its huge interest globally, as being an excellent vehicle to help mainstream cryptocurrency (as do Litecoin), and with an interest in both, sportstalksocial.com appeals to me very much.
I hope that together we can make this tribe/community one of the best places to discuss sport, and in order to do that we need to work together to both distribute the token and strive for a high standard of content.
Distribution
Four days ago, token distribution looked like this: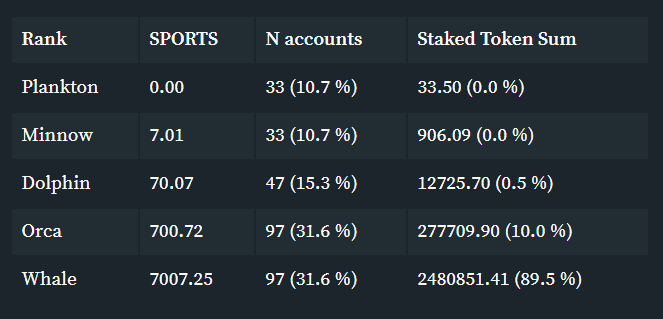 source
And I suspect that if @holger80 was to run the numbers again we would see that the SPORTS Whale accounts hold an even larger percentage of the total SPORTS staked.
Looking at the other tribes on @holger80's list, SPORTS is does not have the most worrying distribution, but it also does not have the most appealing.
It has long been discussed that with STEEM, the initial token distribution has caused problems, and over 3 years into the project, distribution is allegedly only now starting to take place in any meaningful way.
At sportstalksocial.com and other sites that have been born out of scotbot / steem-engine / condenser, the rewards are split 50/50 between the author and the curator. With this in place, as long as our larger token holders act honestly and unselfishly, distribution should steadily take place - far quicker than what we have seen with STEEM.
And it is one item in particular that will help aid distribution, attract new investors, creators, and viewers to the tribe - content.
Content
This post is of course my own thoughts and feelings, and I just want to make that clear before I start talking about content.
In brief, content is subjective and what one person enjoys may be totally unappealing to others.
Personally, the topic/sport is not a big deal to me. If I see a piece of well-written content that shows effort has been made then I would seek to reward that work. If a news article is shared, I would be far more likely to reward the author if they had put reasonable effort into expanding the piece, sharing their own thoughts and opinions on the matter.
Actifit content, which has been given negative press on some tribes, is content I do think has a place under the #sportstalk tag, but I am far more likely to reward the content if additional text and imagery has been added to the post.
The Trending page is most likely the first page a new community member or browser will see. It is the communities responsibility to try and make this page present the best articles on sportstalksocial.
---
Thank you for reading. Feel free to discuss the above topics, as well as such items as sourcing images and downvoting content :)
Cheers
Asher