No posts yet tagged with #horseracing and so this one could well sink like a stone - are there any horse racing fans here?
---
I first started getting into Horse Racing in the early 2000's. My work gave me lots of free time and allowed me to pull up the racingpost.com website most mornings to check on the days meetings and races, and I soon got into studying the form to give me more confidence when trying to pick a winner.
In the afternoon I would listen to williamhillradio.com where they gave live commentary of the races, gave selections, and also took tips from the people like me listening in. By this time, Flutter had been bought out by Betfair and the ability to back and lay a horse, as well as the amplified odds on offer meant I did most of my betting on this site.
Learning to Hedge bets and having some of those come off in style was really good fun. Often I would have a few pounds on outsiders and if the odds had shortened up in the afternoon prior to the race, I could then lay, or hedge the bet and win a little no matter the result.
Biggest Win
A horse called Littleton Zypher dotted up off a light weight in a race where he had form against the odds on favourite in a previous race. I could not understand the 4/6 for the favourite, whilst my pick was as high at 140/1 on the exchange. That morning I sent williamhillradio an email stating that I liked the chances of this horse, but it wasn't until after the race than one of the guys in the studio stated 'oh we had an email for that one earlier on in the day'. I earned a months wage with less than 10 pounds and was pretty chuffed about picking such a big price based on form lines.
Biggest Miss
Has to be Kicking King in the in the 2005 Cheltenham Gold Cup. Kicking King had won three of his last four races and was the talked up horse for the race in the months prior. Suddenly a report came out just a few weeks before the race that he had gotten sick and was unlikely to run. Those with antepost bets were likely to lose their bet and the same would be true for those betting in advance on Betfair. I checked the market on Betfair around the time of the news and the odds had been pushed out to 1000 , or 999/1 - the largest odds (at the time and I think now) for a single selection in a market. I had a few pounds in my account that day, and looked at the price thinking 'well if it's not running, I'm not going to waste a few quid', and didn't put a penny on at that point.
A week or so later the horse was cleared of illness/injury, and the following week romped home at odds of 11/10. Damn!
Biggest Loss
Ha! I'm not telling :) Actually, I'm not sure, and it is probably most appropriate to say that racing days out at the course can put the biggest hole in your pocket. At 20/30/40 pounds to get in, the travel there and back, 5/6 pounds a beer, expensive 'food', and of course your bets, a day at the races can turn out pretty expensive.
I have been to 3 Grand Nationals and the Guineas day at Newmarket, and also visited courses like Chester, Haydock, Nottingham, Kempton, and York for days out with friends. If the sun is out and it's not cold, they are excellent events - if it is cold,you are not dressed properly, and your bets keep losing, then it can be pretty miserable. Overall I think I've had more of the former than the latter.
Favourite Horse
I have a few that have done me some decent favours in the past but in my eyes there is one flat horse that is yet to be surpassed. I can't remember ever placing a bet on this horse as the odds were too short after his first or second win, but those who did bet each and every time he ran would never be disappointed.
Fourteen races, fourteen wins: Frankel The 'Wonder Horse'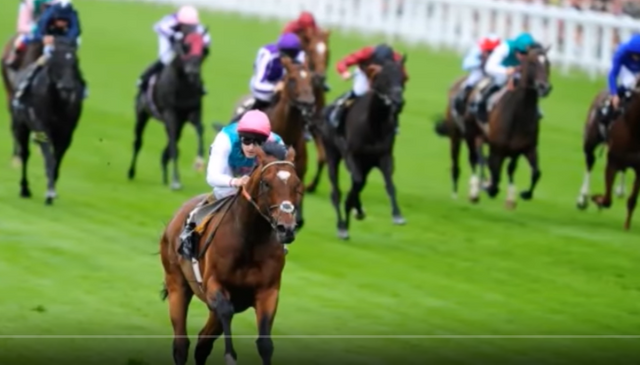 As I was writing this post, I had a look to see if I could find a few examples of his dominance, and saw that some kind soul has compiled all of his victories into an 8 minute clip.
Frankel never looked like losing any of those races, what a nag!
---
These days I hardly ever have a gamble but do watch and listen to the main meetings of the year, flat and jumps. My friends however are still at it (they have more 'spare' money to throw away I guess) and have a whatsapp group to share the tips around.
This group pay a 'professional tipster' to send them selections and over the 3/4 years they have been following, the tipster is close to 100 points up which is pretty excellent. There is a tip for today, and I will occasionally (without telling them of course!) pass these selections on.
Saltie Girl - Ayr - 5:00pm (6pm CET)
The tipster has also given a horse for the St Ledger on the 14th September - Constantinople at around 25/1.
Good luck if you have a dabble, don't shoot the messenger if a leg falls off, etc, etc :)
---
I'd like to know if anyone else is keen on the horses and has any cool stories to tell. If not, then this could be my last post on the topic and I'll have to resort to complaining about Manchester United.
Cheers!
Asher