This current football transfer window has witnessed Spanish team Real Madrid as the only team to have splashed millions on professional players with the intention of rectifying their last season mistakes and reclaiming their European crown.
We saw players like Eden Hazard, Luka Jovic, Ferland Mendy, Eder Militao, Rodrygo Goes and Kuba arrive to strengthen the squad and there are also rumours of an incoming huge transfer of France International Midfielder Paul Pogba from Manchester United.
All these signings were done as Barcelona fas watched with apparent envy. They lifted the league for the second consecutive time in three years again last season but it was not enough to satisfy their urge to match the standards or success of their eternal rivals Real Madrid in the European stage.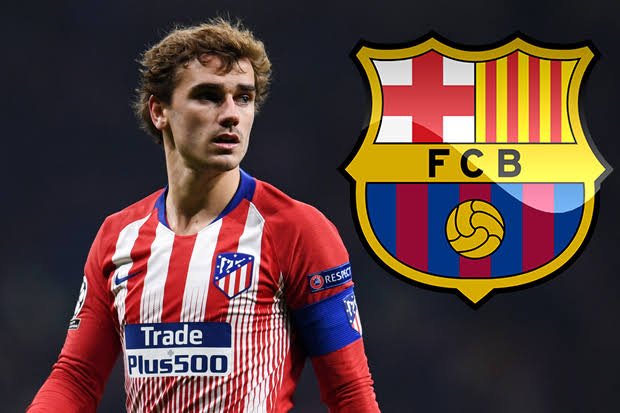 Source
There suddenly came a re-ignition of their interest in France and Atletico Madrid striker Antonio Greizmann and many hearts including mine feel it is a desperate move to calm the nerves of fans that have begun to question the current Barcelona board concerning their future but is this signing a much needed one or simply one done out of desperation?
It is in doubt that Barcelona desperately need to put some pieces together that has always seen them miss out on the Uefa Champions League trophy. Twice they have taken a huge first leg lead only to watch it overturned in the second leg by the opponents. Last two seasons it was As Roma and last season featured Liverpool.
We all know Greizmann to be a wonderful striker with an atomic left foot and a trustworthy goal scorer. His addition to the Barcelona squad would in no doubt increase their chances of scoring goals but would it get them what they badly seek, the Uefa Champions League?
There were rumours of Barcelona bringing back Neymar which automatically means they seek to cover their wings with high quality wingers but is Greizmann the plan or just a piece for another section?
There is the availability of Luiz Suarez, Lionel Messi, Dembele and Phillipe Coutinho in the attacking part of the pitch and Greizmann is known to play as a supporting striker or a top striker, wings Lionel Messi and Luiz Suarez both play in. Does that mean they plan on selling either of the professional players or they intend benching them for Greizmann?
It would be very wrong to think of Barcelona splashing a huge amount and going into the stress of getting Greizmann if they are going to keep him on the bench and that automatically pronounces Greizmann a starter but at whose expense? The signing is soon to be authorized and with next season not very far away, let's fold our hands and watch how things unfold.
THANKS FOR READING..