The ongoing African cup of Nations is just getting more tensed as we journey into the semi-final of the competition.
This stage of the competition is featuring Senegal against Tunisia and Nigeria against Algeria.
The match between the Super Eagles of Nigeria and the Desert Foxes of Algeria hold more attention because of the tactically sound, brilliant players and intense historical rivalry between both teams.
Algeria hasn't defeated Nigeria since 1990 after they won the Super Eagles on home soil to lift their first ever Nations cup title and coincidentally, 10 years before Nigeria won Algeria on home soil to life their first ever Nations cup trophy and this goes a long way to show how intense tomorro's clash would be amongst the teams.
The last time both teams met in 2017, Nigeria drew the returning leg after defeating the Foxes by 3 goals to 1 in Uyo. However, the second leg draw was handed over to Algeria as a win after Nigeria were found guilty of fielding an ineligible player but that didn't stop the Super Eagles from preventing the Foxes from getting to the 2018 World Cup.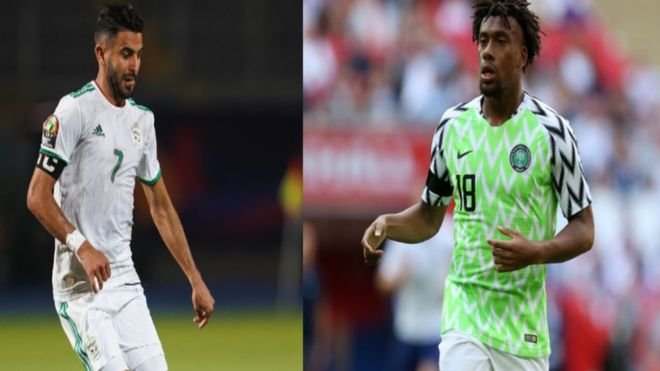 Source
Algeria would without doubt seeking for revenge and most definitely be approaching this match with a desire to oust the Super Eagles at all cost. The Foxes have beaten teams considered to be favourites, Senegal in group stage and Ivory Coast in Quarter Final and now they seek to add the Super Eagles of Nigeria to that proud list.
Nigeria however have had to pull off some amazing highly-spirited display to send Lions of Cameroon packing in the round of 16 and help host Egypt avenge their loss to South Africa by sending the Bafana Bafanba packing from the competition with a 2-1 win.
Next in line for the Eagles is Algeria as they seek to life a fourth AFCON trophy. They would have to be at their best if they are to get to the final and that should mean being clinical in front of goal, tireless in their pursuit for the ball and belief.
This is definitely going to be a difficult encounter but history favours the Super Eagles. Are we going to witness another triumph for the Eagles or a revenge of the Foxes?
Fingers crossed 😁😁
Thank you for reading!