It is a pity that we have had to watch a gem about to lose its worth at a place he is considered surplus to requirements. In the year 2017, Ceballos wa the main attacking/central midfielder for Real Betis. He had a habit of holding the ball well, moving it and also spreading it to the right positions. He was vital in Real Betis' run to top 6 positions before the season ended and his talent did not go unnoticed as Real Madrid fought off several suitors especially eternal rivals Barcelona to drag the Spaniard to the Bernabeu.
However, Dani was found wanting in Zidane's plans as the Spaniard did not fit into his pattern of play and had to watch most matches from the bench. Although a player of Dani's Calibre and age would find it difficult substituting a legend of the game like Luka Modric and Toni Kroos, both of whom plays wings the Spanish thrives in.
In Zidane's favourite 4-3-3 formation that leaves only one space in the midfield after Toni ad Luka and that space is for a deep lying midfielder who assists the defence at all times and Dani is no such player. The Spaniard found game time very difficult to come by and after his first season at the club, speculations arose over his departure. Coach Zinedine Zidane would later leave the club and hopes resurrected of Dani seeing much game time but under Solari, the midfielder was also found wanting and had to sit out much part of the season on the bench once again.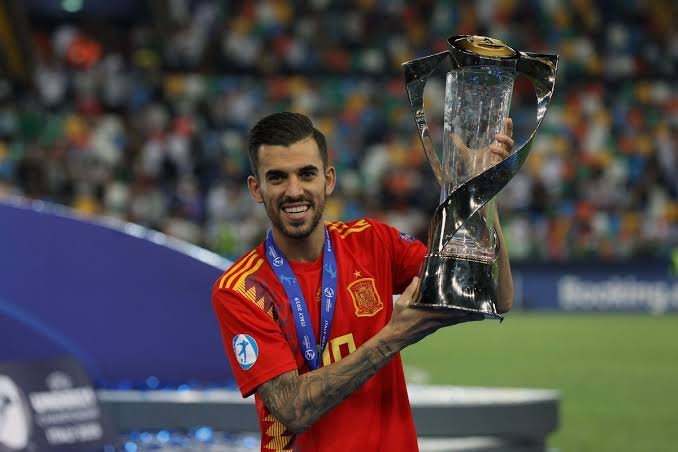 Source
The just concluded Under 21 World Cup exposed the same Dani Ceballos we have missed since 2017 as he maturely and confidently dragged Spain to the title. Ceballos was one of the major performers in Spain's Under 21 World Cup triumph and reports arose that Real Madrid might be considering keeping him at the Bernabeu. However, reports are ongoing of a transfer of another galactic midfielder to join Toni Kroos, Luka Modric and Isco, that automatically means another season of relegation to the bench for the Spaniard. Apparently, another season on the bench for Dani would definitely be bad for his football career hence the need for him to seek playing time elsewhere.
Amongst every team submitting proposals for the Spaniard, I feel Arsenal is the most suitable. With Aaron Ramsey out, Ceballos would get more time to showcase what he is good at in midfield and would definitely be a good asset for the club.
THANKS FOR READING