Hello Community
---
---
After playing the game for some time, I think the Beta cards are starting to grow on me, and I just want to go through my favorite Beta Cards: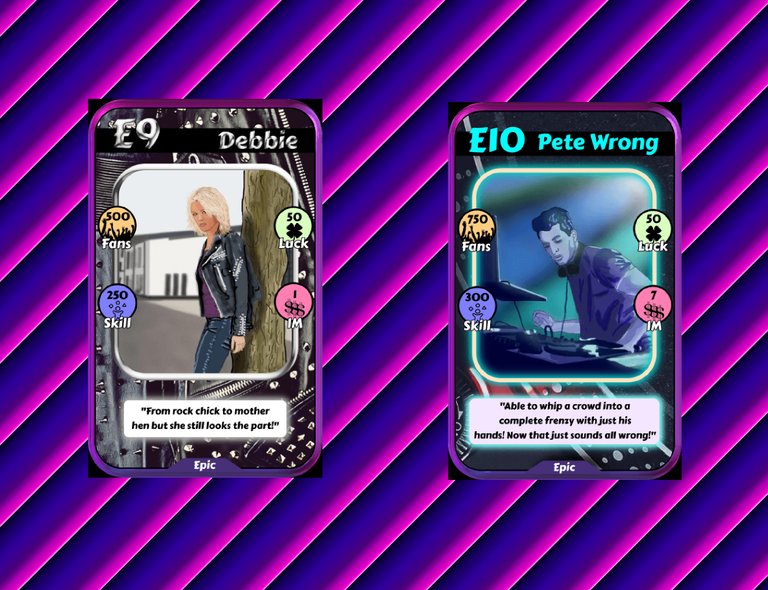 All images on this post are from RisingStarGame.com and @risingstargame
---
These are currently my 2 favorite Beta Character Cards:
Both of these cards are Epic Cards and they have a decent balance of Fans to Skill. They were incredibly hard to get. So you may ask why I did not choose the Legendary cards as my favorite cards. The answer to that is because I havent got them yet lol... Although even if I got them, I still feel that the designs of these Epic cards look better, just my 2 starbits.
---
Rising Star: Beta Rare Cards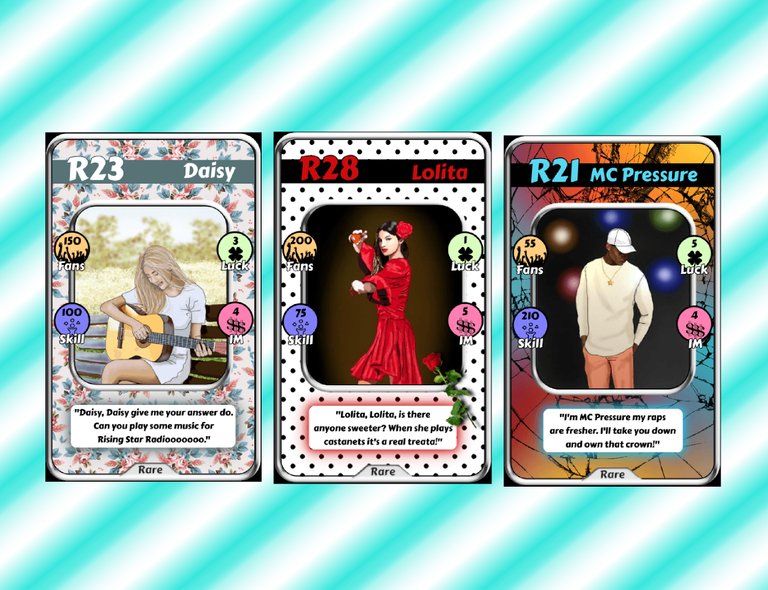 If we are talking about Beta Rare Character Cards then these 3 are my favorite design thus far:
There is something about these cards that make them better than the rest. I would not be surprised if these were Epic cards.
I am close to accumulating 100k Starbits, might reach it today, so I will be able to open another 12 packs:
Hope I get a legendary Beta card this time haha.
---
There is also something else:
Music For Life
Have a look at the below post to get more information:
https://peakd.com/hive-175836/@academialibertad/announcing-the-biggest-music-community-in-hive
@liuke96player is planning to create a Tribe for music lovers, and I think it will be something interesting and look forward to see how it develops.
---
What is Rising Star Game
---
Rising Star Game is basically a game where you start from a nobody and eventually (if you don't give up) become a imaginary super mega star.
The game is still in alpha but there has been several updates over the past weeks, and there are frequent updates on a weekly basis.
Cards assist with your journey to become a super mega star. In this case, a legendary card is powerful.
---
So do you want to test out the game?
The game is in beta now.
Always do your own research before you put money in a game
If you interested in testing out the game:
Here is the referral link.
https://www.risingstargame.com?referrer=apprentice001
I get 1 Starbit for every mission that you complete. But you don't have to use my referral link if you don't want to. No Stress :)
Hope you enjoyed the post.
Like, comment and follow
Have a great day!