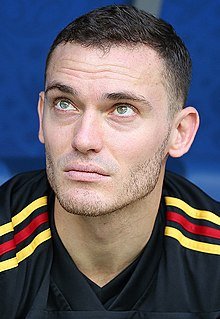 Source
The former Barcelona player and Arsenal captain Thomas Vermaelen has just been announced as a Japanese club player, Vissel Kobe, on Saturday. The 33-year-old will join several former Barcelona players, such as David Villa, Andres Iniesta, and Sergi Samper. Barcelona and Vissel Kobe do have a close relationship through their sponsor, Rakuten.
Rakuten, the main sponsor of Barcelona, ​​is a Japanese company that is also the owner of Vissel Kobe. Vissel Kobe is currently 15th in 18 teams in the Japanese League 1 or J-League 2019.
"I think this is an ambitious team, if you see the players brought in, they are players who appear neat in the past, Andres Iniesta, David Villa, Sergi Samper, and Lukas Podolski."
"I know that everything is very good and for me this is a big part that is very easy to make me join this team," said Vermaelen.
Thomas Vermaelen is a player with 70 caps with the Belgian national team. He had played with Arsenal in 2009 until 2014 before moving to Barcelona.