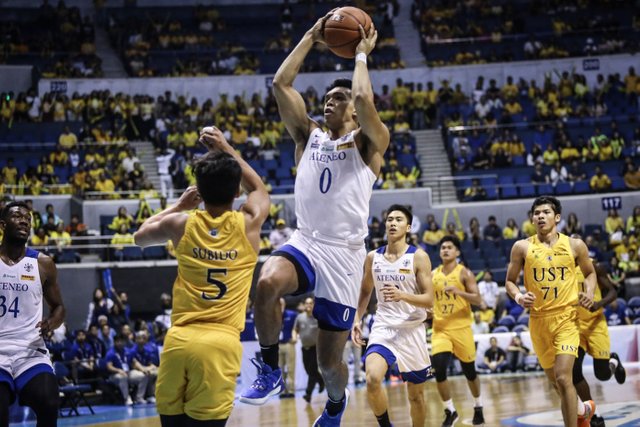 Image Source: Link
Shielding Ateneo De Manila University demonstrated their strength to a 91-77 win over the University of Santo Tomas in Game One of the best-of-three Finals arrangement of the Season 82 UAAP men's b-ball competition yesterday at Smart Araneta Coliseum.
Thirdy Ravena scored 32 from 14-of-18 field goal shooting and Ange Kouame had 16 markers and 12 bounce back for the Blue Eagles.
SJ Belangel contributed 12 for Ateneo's 15-game series of wins of the period and arranged a leg for the title.
"There is a ton of work to do. Today around evening time we shoot well, our vitality for the offense is great yet not in safeguard. We know UST won't down. We know, it will be harder on Wednesday, "Ateneo mentor Tab Baldwin said.
The Blue Eagles are wanting to complete the arrangement to secure their eleventh crown and 'three-peat' when they face the Growling Tigers in Game Two on Wednesday at the MOA Arena in Pasay City.
Indeed, even with a long 17-dawn while hanging tight for the rival, Ateneo turned out to be increasingly forceful from the get-go in the game, driving them to 18-2.
They dropped to 36-17 at UST from Ravena's layup with 7:50 minutes left in the subsequent half.
Be that as it may, Mark Nonoy dropped two straight triples in the Growling Tigers' 21-5 convention to slice the lead to 38-41 preceding halftime.
Yet, Ravena, Kouame and Will Navarro scored again in a 13-1 race to give the Blue Eagles a 54-39 lead in the primary half.
The Blue Eagles were up 21 points, 64-43, in the third time frame.
In the ladies' division, Grace Irebu scored 28 points to lead the UST Golden Tigresses to a 76-65 win over the FEU Lady Tamaraws in the Finals after over 13 years.
Irebu likewise grabbed 14 bounce back and 3 squares for the Golden Tigresses who will confront 'six-peat' champions National University Lady Bulldogs in the Finals.