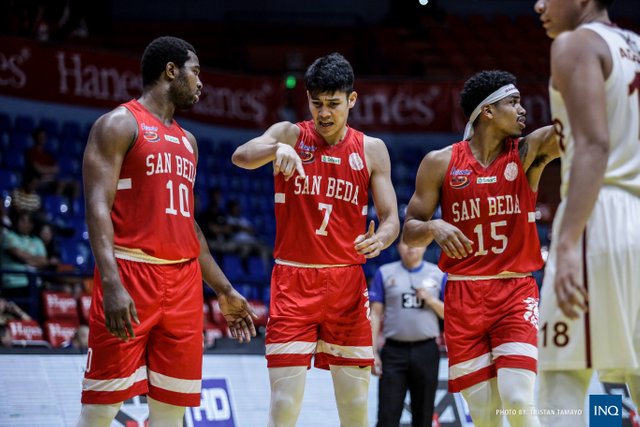 Image Source: Link
MVP Calvin Oftana safeguarded top seed San Beda Red Lions against Letran Knights, 79-76 yesterday to win a sink or swim fight in their best-of-three Finals arrangement of the Season 95 NCAA men's b-ball competition at MOA Arena in Pasay City.
Letran was ahead by two, 76-74 on Larry Muyang's fall-away jumper, however Oftana counted a drive and got a foul from Bonbon Batiller for a three-point play to take a 77-76 lead with 19.1 seconds left. that is only the rest.
After Batiller missed the arrival play, James Kwekuteye made a beeline for the free toss line at Muyang's foul for the last score.
Fil-Canadian Kwekuteye completed with 21 points, seven bounce back and six helps while Oftana had 17 points, 11 bounce back and two helps and furthermore 17 points from Clint Doliguez for the Red Lions going on a champ take - all counterpart for the Finals without precedent for three seasons.
The adversary San Beda and Letran will meet again on Tuesday to secure the title in Game 3 of the arrangement at a similar setting.
In the youngsters' division, the Lyceum Junior Pirates outscored the San Beda Red Cubs, 79-74, to win an elastic match in their best-of-three Finals arrangement.
In the interim, the Lions overwhelmed the Mythical Five as MVP Oftana drove the individual granting ceremonies before the beginning of Game 2 of the Finals.
Cameroonian import Donald Tankoua was additionally named Best Foreign Player and Justine Arana of the Arellano Chiefs as Rookie of the Year and Fran Yu of Letran was the Most Improved Player.