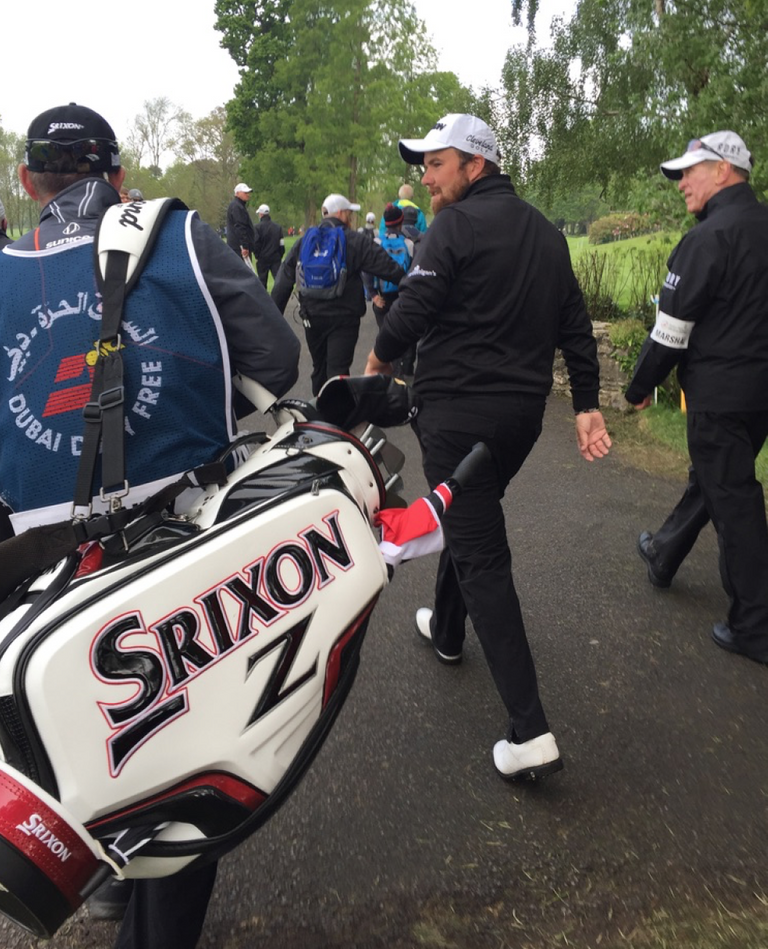 The title picture is from my own phone following Shane Lowry around the Irish Open in the K CLub 2 years ago. He started his round at 7am. I left my house at 4am in the morning to travel to Straffen in Kildare to follow him around. On the first hole at 7am on the Friday there was nobody there. There was Shane and his caddy, 2 other golf parties, myself and this good looking guy that looked like Jay Kay out of Jamiriquoi. I started talking to him walking down the first. It was only just us too and we were just walking in the same direction. Unknowingly I was talking to Shane's coach Neil Manchip. Best dressed man I've ever met. He was a nice guy too like Shane Lowry. The whole party are just nice people. Going around with him Shane was joking with the caddie. Then getting angry, then a bit grumpy and back to joking around. A day in the life of a typical Irish man.
Today at Portrush Shane Lowry posted a 63 to go 4 shots clear of in the Open Championship. His biggest day since leading the US PGA in 2015. It was an unbelievable round from the Offaly man. He just missed the putt to equal the course record on the 18th but apart from this Shane Lowry is living in dream land. He is 4 shots clear heading into the last day in his home country. It will be blustery tomorrow but bad weather and strong winds suits Shane. He grew up in it but the only problem is so has Tommy Fleetwood.



Lowry started slow parring 1 and 2 but the birdies came on 3 5 and 9. The back nine in Portrush are notoriously more difficult than the front nine. That did not stop Shane and he went on the rampage. Some of the best golf I have ever seen. It was great. Ranked 33 in the world , Shane was playing like Tiger in his prime. He birdied 15 , 16 and 17 to hit the back nine in 30.


He went around with JB Holmes who is known for his slow play but Shane was fast. His caddie Bo at one stage just telling him to take the shot! JB wore a similar outfit to Shane and actually looks quite like him( big unit , scruffy with a beard).



I think the whole of Ireland is buzzing that Shane is leading the Open Championship. People have a warmth to Shane. Unlike Rory he comes across better and he is someone you would like to go for a pint with. He is 4 shots clear now. This happened him in 2015 also when he was 4 shots clear and went around in 6 over Dustin Johnson pipped him so I will have my fingers and toes crossed.
I always have a sneaky bet on Shane at the majors because he is an unreal talent and it is only a matter of time before he wins one.I will be hoping this one comes in. I have not been this excited since the champions league final but we all know what happened in that. Two disappointments in a couple of months will not go down well