A week ago I launched the Sportstalk Fantasy Football League. We have plenty of time left and unlimited spaces if some of our Sportstalk and Steemians want to join our league. All you have to do is pick a team of 15 players. 11 first team players and 4 substitutes. You have 100 million to spend and you cannot pick more than two players from any one team.
The link to get going and to make your team is here
In order to join our Sportstalk private league after you pick your team just select leagues. Go to private league. It will then ask you for a code. The code for our league is
0lvhqd
So already we have quite a few entries and of course a few dodgy team names. We have some serious expertise and football knowledge in here. When first joining @sportstalksocial I was actually surprised with some of the detailed posts some of the guys are writing such as @philnewton, @cryptoandcoffee with his cycling posts , abh12345.sports. Plus a fellow Spurs fan @talesfrmthecrypt has done a great post on some of the key players to maybe think about before you pick your team. It actually made me think twice about my team . The link to his post is here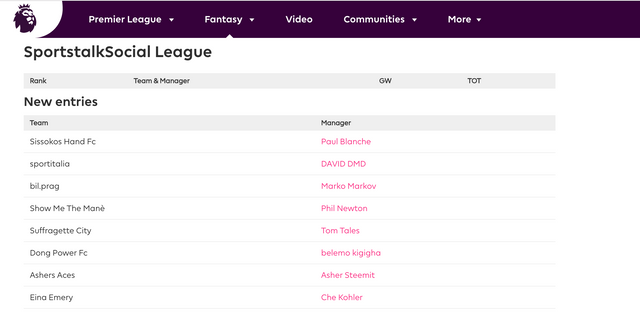 So the prize for winning the league will be 500 SBI from my side. And I will be putting up some sports tokens also. Thanks to @patrickulrich for the support to promote the league more and setting up this interface. So I look forward to seeing some of your posts with your entries into the league.
EDIT . @patrickulrich has sponsered the league 50,000 sports to the winner which is ovey generous of him. Thanks Patrick.
So 50000 sports and 500sbi for picking a team. A decent prize I must say
Choose wisely my friends.