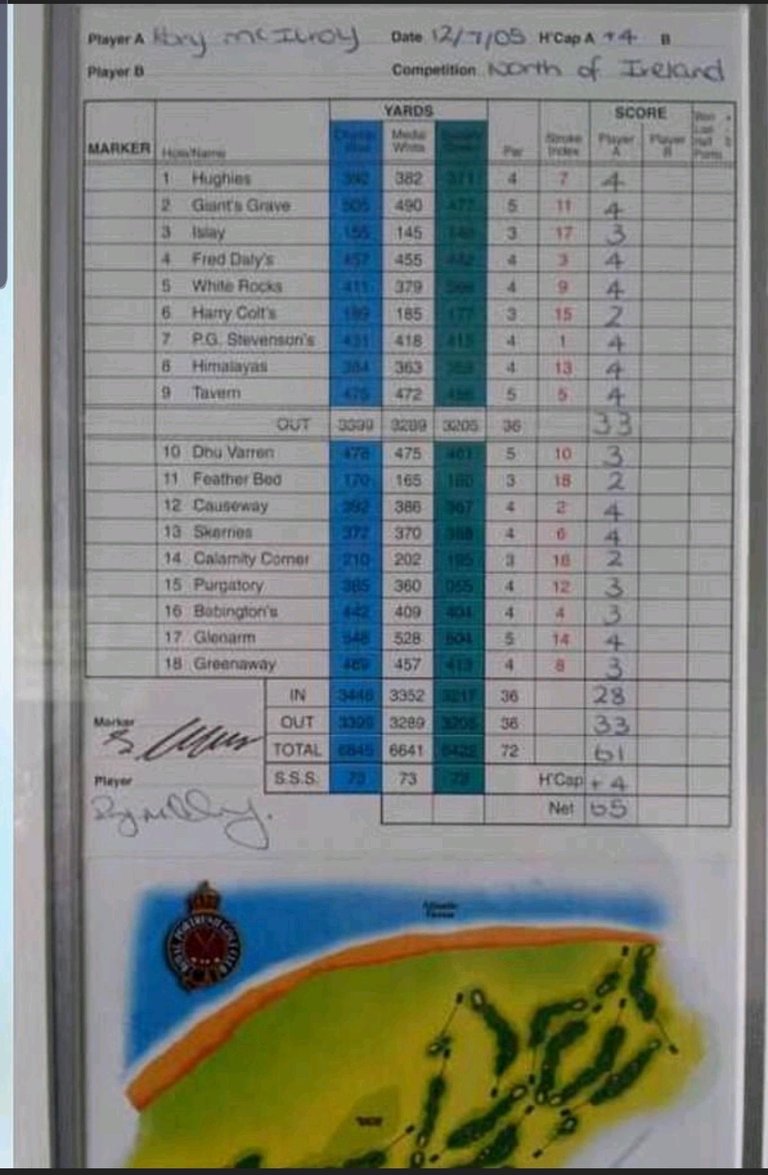 So what is this scorecard as the title image. It's the current course record at Royal Portrush. A 16 year old kid got it in 2005. He went around in 61 shots. Next to impossible at the very challenging links course. The record still stands and it belongs to Rory McElroy!



The 16 year old was competing in the North of Ireland competition when he recorded the score. If you look at the score card he was only 3 under after 9 holes. Amateur competitions would normally be scoring between 3 to 5 under on a links course so it was not surprising but the back nine was a total different ball game.
Rory eagled the 10th, birdied the 11th,14th and 15th. News started travelling around the course and even as far as Saint Andrew's where the Open championship was underway ,that a 16 year old was on for the course record. The pros and galleries started to make their way down to see the boy coming in. He then birdied 16 and 17. This was ridiculous. The weather conditions were favourable but this links course is a monster at the best conditions. Rory now had a gallery coming up the 18th. Rory hit the green in 2 and had a 30 foot putt to record a 28 for the back nine. He holed the putt to the bewilderment of the gallery. A 16 year old had just shot a 61 at Royal Portrush. One of the best golf courses in the world. This was amazing.


This teenager was fearless. Where other amateurs would go into defence mode at 4 under,Rory just wanted more. It was a sign of things to come. 14 years on Rory has 4 majors in the bag. Underachieving most say for his talent. But Rory is different. Any other golfer than wins two times on tour for a season would be considered a success. Rory has won the players championship and the Canadian Open this year and he has under achieved because no major. I think this is a bit much considering he is still well under 30. The masters is the only major that has escaped him. Rory on his day is the worlds best golfer but the pressure has been telling at Augusta. Hopefully this pressure cooker atmosphere will help him in Portrush because all eyes will be on him. There is another player that everyone will want to see this week and rumour has it that he has been sneaking to Ireland on his private jet and playing a few practice rounds. Who is this golfer?



[e](w really looking forward to this one. Portrush is amazing and a real test. But somehow I do not see Rory doing it. The expectation is too high. Bombing it off the tee will not be enough to win this. Precision with the wedges is vital and this is something Rory is lacking of late. My bet is Shane Lowry or Justin Rose. Because I am Irish I will do an each way bet on Harrington just in case. He led the Irish Open for a day. At 166/1 a fiver went go astray