It's Time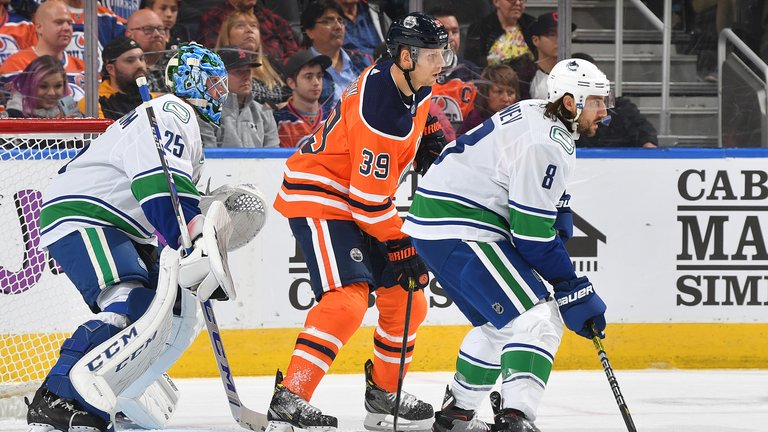 Source
Game Day baby! NHL season is back and hope is in the air. The Oiler's have many a good number of changes to their roster since last year and look to improve on a disappointing season. There are new faces all over the lineup and we are slowly seeing new GM Ken Holland impact the roster.
Players missing from last years opening night roster are: Cam Talbot, Evan Bouchard, Jason Garrison, Milan Lucic, Ty Rattie, Kailer Yamamoto, Ryan Strome, Jesse Puljujarvi, Tobias Rieder, Kyle Brodziak and Drake Caggiula. That's 11 players from a 23 man roster. We are also missing Andrej Sekera who opened last season on the IR. This is not an inspiring group of players but a few names stand out to me. Evan Bouchard and Kailer Yamamoto are both still with the organization but will start the season in the AHL. Ryan Strome and Drake Caggiula were both victims of atrocious Peter Chiarelli trades and would both be upgrades over a few of our current players. Outside of that this is a pretty dismal set of players and being rid of them should be a boon to the club.
New players on the roster from last years opening night are: Joakim Nyagrd, James Neal, Markus Granlund, Gaetan Haas, Colby Cave, Josh Archibald, Patrick Russell, Brandon Manning and Mike Smith. We also have a few new faces opening the season on the IR, Joel Persson, Tomas Jurco and Riley Sheahan. A few gambles in this group of names in Joakim Nyagrd, Gaetan Haas and Tomas Jurco. If even one of them pans out as long term players, it's an upgrade over the entire list of forwards absent from last years opening night. Jurco was a stud in preseason and was set to open the season in the top 6 before having to sit out opening night due to an undisclosed medical procedure. Nygard gets the chance to open the season alongside McDavid and is set up for a huge opportunity to prove he belongs in the NHL. James Neal was acquired in the Milan Lucic trade and looks like a man with a mission so far. It seems like he's in significantly better shape than he ever was in Calgary and is playing like someone with something to prove.
Many of the other new faces will be finding work further down the roster, which was one of Hollands main focuses this offseason. The Oilers had embarrassingly poor scoring depth last season and the club will need a significant upgrade over last season. The fourth through twelves scoring forwards for the Oilers last season amassed 154 points. That's about 17 point average per player, a number every single player should be able to eclipse over a 82 game season. Just to compare, the league worst team, Ottawa Senators, had 283 points from their 4-12 forwards last season. That is a staggering difference and a major deficiency for the Oilers. Khaira, Chiasson, and Kassian are the only returning players from last years 4-12 and were 3 of the 4 top names from last years list. Removing those three we need an improvement of 72 points over last years group, that's 12 points a man. The bar was set real low. Do you think that Neal, Nygard, Granlund, Haas, Cave and Archibald can combine for 72 points? I sure as hell hope so.
I do feel this team is an upgrade over last season. We also have a good group of players in the AHL who will be looking for an opportunity this season and anyone who falters on the NHL. Benson, Marody, Yamamoto, Bouchard, Lagesson, and Jones should all get some NHL time this season and all have the potential to never let go once given the chance. Many of the players who struggled last year are gone. They've mostly been replaced by hopes and dreams but it's damn near impossible for our depth to be worse than it was last season. I feel like there are a few areas we could see regression in this year. I doubt Alex Chiasson replicates last seasons 38 points. He played most of last season above his station and it appears he's been bumped down a few rungs on the depth chart this season. I suspect we see one or more of Neal, Nyagrd or Jurco make up for that regression. There are also many question marks in goal this season. Mike Smith is 37 this year and it's hard to believe he has lost a few steps from his prime. Mikko Kosinen was just not a good goalie for most of last season and was somehow rewarded with a $4.5M three year contract (which was immediately followed by Chiarelli's dismissal). Maybe we get a hot streak or two from the pair but outside of that expect below average goaltending. Smith gets the net for game one but I'm expecting a even split from the two men.
So just how improved is this club? I'm going to say around 5 wins improved, enough to have them sniffing around for the final wildcard spot in the west. McDavid is still McDavid, forward depth is slightly improved, defence is about the same, goaltending is also about the same. I don't expect the club to have a good start to the season but hopefully they can hold out long enough to get the roster and depth chart sorted out. We will see a lot of different looks from Coach Tippett and hopefully he can find some answers where our last few coaches have failed. They seem more committed to improving certain areas like depth scoring and special teams. Every area that improves will lead to more wins. If we are close to a playoff spot come February, March I fully expect McDavid to put this team on his back and drag the club into the postseason.
---
---