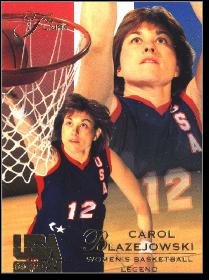 Women's basketball was developed in the late 1800s in tandem with its men's counterpart. It became popular, spreading from the east coast of the United States to the west coast, in large part via women's colleges.The popularity of women's basketball grew steadily around the world for decades. By the 1970s the sport had attracted the notice the International Olympic Committee, which added women's basketball as an official sport of the Olympic Games in 1976, the men debuted in 1936.
Carol Blazejowski, also known as "the Blaze", is an American basketball player and sports executive whose playing career featured a number of records and firsts. She was born on September 29, 1956 in
Elizabeth, New Jersey.
She discovered basketball in the local playgrounds. She watched the boys shooting jump shots and began mimicking them.
In 1979 Blazejowski was on the first U.S. women's basketball team to win a gold medal at the World University Games (WUG) in Mexico City. She carved out a career as an executive with the NBA. She was also inducted into the Basketball Hall of Fame.
She is one of the proofs that we, women, can keep pace with men even if in sports.