Sarri slams Juventus slow passing: my thoughts
Somewhat old news but I tuned into the Lyon vs Juventus match a couple days ago and Lyon won the game 1-0.
Sarri the manager of Juventus has criticised his Juventus team's "inability to grasp passing instructions.
However I think his tactics slow the game to prevent fast passing.
Sarri play's a very tough tactic his tactic evolves around "playing from the back and keeping a very high percentage of possesion" and despite world class teams using this I feel Sarri is getting it very wrong. Sarri plays from the back slowly and expects his team to do it everytime no matter what and an easy counter to this tactic is the "high press".
Juventus as a team I don't think suit this tactic despite currently being top in Serie A they haven't been winning games comfortably and have had a lot of 2-1 results.
Even during his time at Chelsea his tactics didn't work he manged to win the Europa league but in the premier League his tactics didn't work a lot and it seemed if the team was brave enough to press high up the pitch they would win the game.
The recruitment at Juventus has been a disaster but if it wasn't i don't think there would be a big improvemnt.
I don't think "sarri ball" suits the Juventus system.
"Sarri ball" is a safe tactic focused on simple passes and mantaining possesion. I believe Juventus would perform better playing risky football and playing an attacking formation focused on quick counter attacks and high pressure at winning the ball back.
this concludes my post feel free to let me know what you think about Sarri ball.
---
Read more: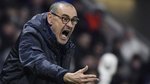 Sarri exasperated with Juventus' inability to grasp passing instructions after Lyon defeat | Goal.com
Maurizio Sarri has slammed the pedestrian passing of his Juventus players as they fell to a 1-0 defeat to Lyon in the first leg of their Champions League last-16 tie.
Source:
https://www.goal.com
---
Share this post:







---
Posted using AltYes browser extension.
---
---