So months ago Wilder activated his rematch clause fpr a third match between to two heavyweights it was promised the match would happen during summer because Tyson wanted to have a bout against Anthony Joshua however due to covid-19 its extremely unlikely that would happen and personally i don't think it will happen this year and if it did it would be in December.
However Frank warren has announced that the fight could take place in October

---
Read more: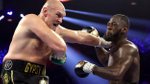 Tyson Fury v Deontay Wilder: Third fight possible for October - Frank Warren
British world heavyweight champion Tyson Fury could fight American Deontay Wilder for a third time in October, says promoter Frank Warren.
Source:
https://www.bbc.co.uk
---
Share this post:







---
Posted using AltYes browser extension.