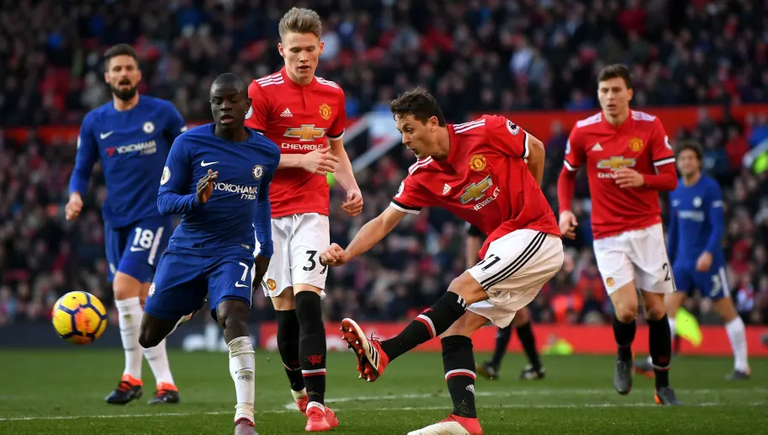 IMAGE CREDIT
Just two days ago. I published a post talking about the first premiership matches. There I mentioned that Liverpool will trash their counterpart 3 nil, and they played 4 - 1. That's good prediction, anyway. I also talked about Manchester United and Chelsea, where I said Manchester United will be a hard nut for Chelsea to crack. It's quite obvious that Chelsea could not contain the red devils in their first premier league encounter this season.
Here is the highlight of the match.
Chelsea started with a very brilliant play and dominated from the beginning, playing to score.
They both suffered a defensive error in the first 10 minutes of the first half that almost resulted in a goal. Chelsea's chance was clearer as the shot played hits the pole. Chelsea dominated in the first 15 minutes, but United got a penalty in the 14th minute with Rashford spinning the ball into the net (Zouma's fault).
Emerson played a shot and hit the pole from a long aerial ball that beat two United defenders in the 39th minute. It's quite unfortunate that he didn't find the net.
Chelsea played very good football throughout the first half, but the Manchester United defenders were well arranged which made it difficult for Chelsea to penetrate. Chelsea had some chances but blew it away without converting one into a goal. The first half ended 1 nil as Marcus Rashford's first-half penalty gave United a half-time lead.
Chelsea began the second half with the spirit to equalize. Everyone around me in the football house keeps saying the match will end in a draw. To Chelsea fan perplexity, Anthony Martial nets the second goal, while Pogba provided a superb pass for Marcus Rashford to make it 3-0 in the 67th minute. He didn't stop there. He also embarked on a lung-busting late run to contribute to Daniel James first premier league goal at Manchester United. Pogba was the man of the match with the wonderful performance he puts up in the encounter. The former Manchester United coach Sir Alex Ferguson also came to watch the match, and I captured him while he was smiling profusely when Manchester United dismantled Chelsea at Old Trafford.
United kept a clean sheet, and that's awesome. I'm a Manchester United fan and I'm glad that we broke Lampard's wing at the start of the season. Up united.............................................................................................4 - 0 is not a child's play. Man u is superb.
Looking forward to our next match. Talking as if I'm gonna play with them on the pitch. That's the mentality of a genuine fan.
Thanks for reading.
Let's keep the ball rolling on sports talk. One love.