Federer vs Djokovic: Wimbledon Final Prediction
So Wimbledon this year has been perfect in my eyes, at least concerning the men's side of the tournament. I couldn't have asked for a more fitting final. I am not one of these die hard tennis fans who loves Roger Federer, I actually like a lot of players on a similar level but I wanted to see Federer get to another Wimbledon final with the opportunity to make it 21 grand slams and 9 Wimbledon finals due to his age.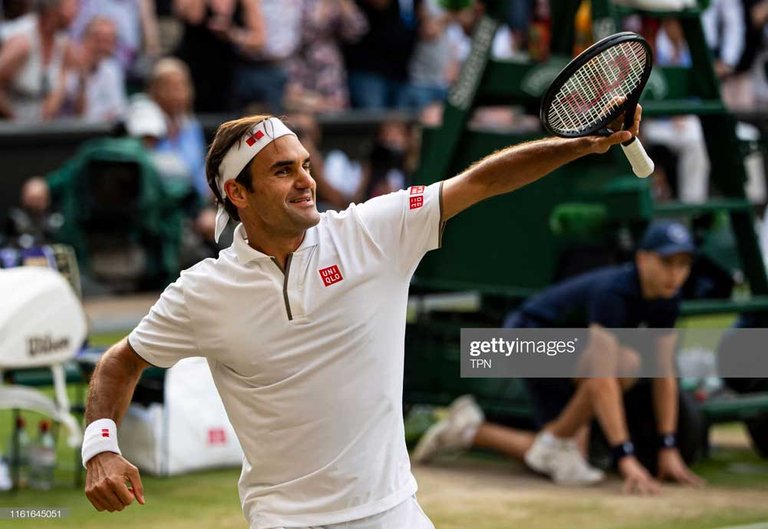 Source - Getty Images - Roger Federer
Although 37 I can't see Federer retiring from grass court tennis for atleast another 3 years if he keeps himself in the shape he is now. But who knows what will happen in terms of possible injury or exhaustion which could see his career come to a sudden end. So this could be his last chance to secure another grand slam. Nadal and Djokovic still have time on their hands, while Federer seemingly never ages, age will catch up eventually.
Yesterday's match vs Nadal was a master class in grass court tennis where Federer took all the time away from Nadal for long periods of the match. Rarely did he move further back than the baseline, choosing to take on Nadal's heavy top spin play on the half volley, particularly off the backhand. This sort of style is what had won him 5 out of their last 6 meetings, he literally squeezed Nadal until he cracked under the pressure.
By the time the fourth and final set came round you could feel the impending doom lurking over Nadal, although defiant to the end, even Nadal's spirit was some what subdued compared to the French. Federer was just too good last night and it's a huge victory he can now take forward into the final vs Djokovic on Sunday.
Djokovic had the easier match of the two of course, playing Bautista-Agut some would say had it's own perils given Djok had lost to the Spaniard on the past two occasions and both times occurring this year. But the calculating Spaniard faced a totally different Djokovic to that of Miami and Doha. Djokovic has looked totally in control and composed throughout the entire tournament at SW19 and he had an air of invincibility about his play yesterday, even when conceding a set you never felt Bautista was ever going to win this match. Djokovic pinned Bautista behind the baseline for most of the match apart from the odd occasion where he dropped him to keep him honest. Even then Djokovic edged him in the forecourt cat and mouse exchanges.
Going into the final and somewhat to my surprise bookies have Djokovic as the complete favourite at 1.55. I know he has won the past 3 head to head's comfortably, but this is grass and Wimbledon and we just saw how easily Federer defeated Nadal. I would have expected the odds to be a little more even sided but for those fancying Federer to make it nine Wimbledon titles, odds of 2.66 are very attractive!
Djokovic enjoys a 2-1 lead over Federer in the final at past Wimbledon competitions but I don't think the bookies have factored in Federer's recent grass tournament performances where he has been rock solid in the forecourt and on serve. What I love about tennis is the variables involved when predicting matches are cleaner than a lot of other sports as it's simply 1 vs 1, similar to MMA and boxing. If your a regular watcher you can draw your own analysis beyond historical data just on how well a player is performing in a single tournament. I haven't seen Federer look so clinical since the Australian Open 2017.
Watching both Federer and Djokovic yesterday I feel Federer is the more threatening and in form player this tournament, perhaps only by a small amount over Djokovic but given his odds at 2.66 he's worth a shot. Djokovic yesterday won most of his points using his typical controlled aggressive style, complete winners were not so apparent and never are with his game, but Federer is on another level of shot making than Bautista Agut and I think Djokovic could be found wanting in the final.
If Federer maintains his uncompromising style of aggressive play vs Djokovic as he did with Nadal, it's his to loose rather than Djokovic's to win!
---
---