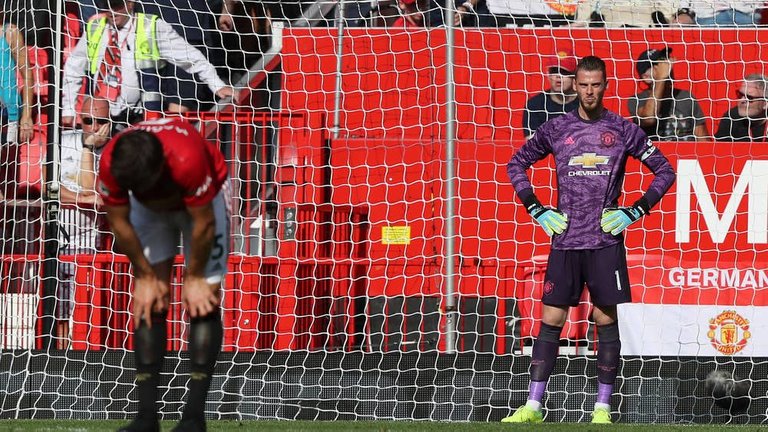 After a few beers and a couple of precious nights of sleep, I have managed to get over the loss to Crystal Palace on Saturday. Football has a way of making you depressed and spoiling your weekend.
However, Arsenal losing and Tottenham yet again going down to a shocking defeat to Newcastle provided some needed catharsis in what seemed like an incredibly long weekend.
But now it is time to take stock of the events that occurred and examine what was at the core of that, I would say unexpected, but truly I felt it in my bones that we would be breaking new records this season - the wrong type of records.
Crystal palace had not won a game against United at home since the 90's, or was it the 80's?
Ole's reign at United begun with so much bravado that we simply believed or wanted to believe that it was Sir Ferguson reincarnate. We started by winning game after game, the Poch vs Ole match up that was famed as the decider for the United job, and lest we forget, the incredible comeback against PSG was the climax before we all fell of the cliff towards the end of the season.
Injuries, lack of fitness that spanned four seasons and horde of dead wood that has been at United even longer. Ole has foreseen the exits of Lukaku, Fellaini, Herrera (though not dead wood), and now apparently Sanchez is on his way to Inter to join up with Lukaku.
While this has left us with an unfortunately thin squad we can only be grateful considering previous managers have failed to do this over and over again. Matic, Smalling, Jones and Young have all been dropped, well, until the latter found his way back in after Luke Shaw pulled a hamstring.
Can I add this? Shaw needs to be sold. Since his injury four years ago he has lost his will to attack and is culpable in defense. To add to that, he is injury prone, a coaster and a massive liability at left back. He can piss off.
Looking at the Crystal Palace game, it seems Ole's persistence with counter attacking football even when the opponent is sitting back just baffles me. That game was crying out for Gomez, Mata or Perreira in the 10 and probably Mason Greenwood on the right who would have offered both speed and trickery in the box to open up spaces.
However, one thing that gives me hope that he is learning is the fact that he took of Lingard who was ineffective for Greenwood before the 60th minute so that he had time to influence the game.
However, by then Lindelof had once again been exposed as weak defender when he was out jumped in the air on the lead up to a simple finish by Ayew. The shock on Maguire's face when he realized he had to cover both Lindelof, Shaw and now Young because of their inadequacies was quite telling.
Thinking about it now, we are in for an incredible topsy-turvy season with so much shit mixed in with the good. However, I feel like Arsenal, Tottenham and Chelsea equally just picked up where we all left it last season and there is more bottom to discover beneath this rock.
Who will come out of this rut first? Nobody knows. All I know is that Southampton is up next and while United are my selected team for the Last Man Standing competition, I am waiting to receive my damp toilet and my free Guinness voucher redeemable in my dreams.
We are shit!!