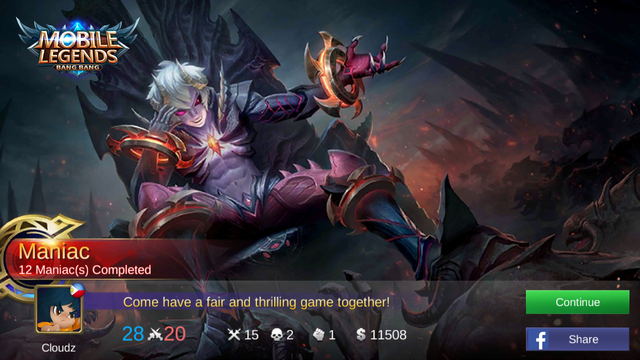 Hello guys, here I go again as I am about to share my another experience of using the fighter Dyrroth in Mobile Legends.
So the same as my recent post, I was about to pick Guineverre. But she was banned so then I picked another which I'm comfortable with. And this time, I am playing together with my friend who is using Hanabi. In the early game, the opponent in my lane was Chou. I used my first skill to spam and my second skill to harass him forcing his life to go down and return to base to heal. I took my advantage there and there was a level gap between me and Chou. Meanwhile, Badang and Gord were starting to feed at the top. Good thing my friend using Hanabi is starting to get fat. So, after killing Chou many times in my lane, I started to gank in the mid lane and whenever an opponet is killed, I'll go push it directly. We got the turtle 2 times that makes the level and gold in favor to us. During the clashing, my dyrroth got legendary and as well as a maniac achievement. I was supposed to get Savage but my life was a bit low when faced against Karrie. So, together with my friend, we dominated the game. Every time the five of us is on the same lane, I'll go to other lane to split push. And fortunately we won the game.
Here is the stats of the game. In this game, I mainly focused on the objective which is to push so that I can prevent from losing again due to obsession of getting kills just like my previous posts.