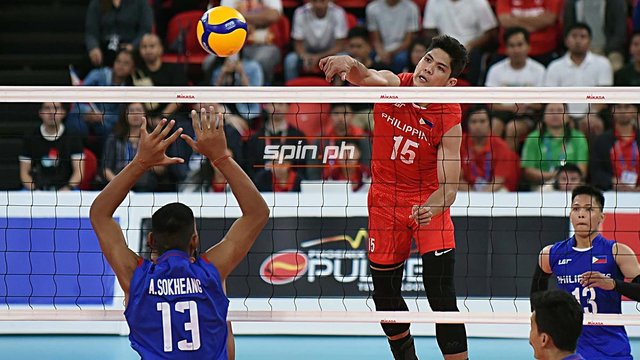 Image Source
The clash between the Philippines and Cambodian teams was fierce during elimination round of the 2019 Southeast Asian (SEA) Games Men's Volleyball tournament.
In the first set of the match, Philippine players have already been shown to be led by outsider hitters Marck Espejo and Pinoy import from Japan Bryan Bagunas.
The team scores in a row until Cambodia pursues.
The score was 16-12 at the end of the 2nd technical time-out, which was one of the biggest leads of the foreign team.
The Philippines responded with a score of 23-23. The country got the first match point at 24-23 but Cambodia scored again and lost the goal.
Breathing points became the result of points and errors from both teams.
But a solid block from 19-year old setter Josh Retamar ended the first set: 29 - 27.
Cambodia did not break the momentum of the Philippines, putting them 25 - 17 in the second and third sets.
The team's best scorer was 5-time UAAP MVP Espejo with 21 points.
Bagunas had 14 points and Retamar had 11.
Tonight, the country's Women's team will face off against Vietnam.
Where the volleyball stars Alyssa Valdez and Abigail Marano look forward to.
Both teams will also compete on Wednesday at the newly renovated venue PhilSports Arena, Pasig City.
The Philippine men's volleyball team has 6 medal records in SEA Games history.
The men's team last climbed to the podium in 2005 where the team finished in 3rd place.