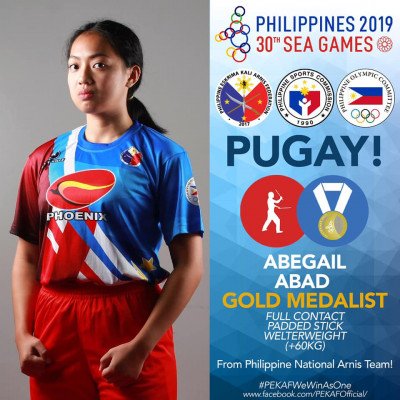 Image Source
The first ever appearance in the SEA Games was won by Team Philippines' youngest arnis player in the ongoing 2019 SEA Games in the country.
19-year old Igorota athlete Abegail Dulawan Abad won the gold medal in arnis, specifically in the padded stick welterweight - women's division.
In an exclusive interview with Bombo Radio, she shared that in the first round of her fight she was nervous because the level of the SEA Games was different to the flag of the Philippines.
However,she said there was still the eagerness to fight and win for the Philippines' honor at an international event.
She was so excited and almost unbelievable that she missed the gold medal in arnis during her first appearance at the SEA Games and her passion for sports has always been her elementary school.
Abad, a senior high school fresh graduate from Camp 7, Baguio City, said it was the result of all the hardships and challenges she had gone through.
She also thanks her for having a very supportive family because all of her relatives believe and trust in his ability.
She said her family served as his encouragement at times when she told them he could no longer.
She further shared that she enjoyed the presence of those who watched the Team Philippines games because they had a great support for them to improve.
She further encouraged the public by continuing to support all Philippine athletes who bring honor to the country.