Watford FC is the last football team to get on the cryptocurrency train. This fact is important twice, since on the one hand it helps to spread the world of cryptocurrencies and at the same time advertises BTC, which is not bad at all. This is undoubtedly great news for cryptocurrencies in general.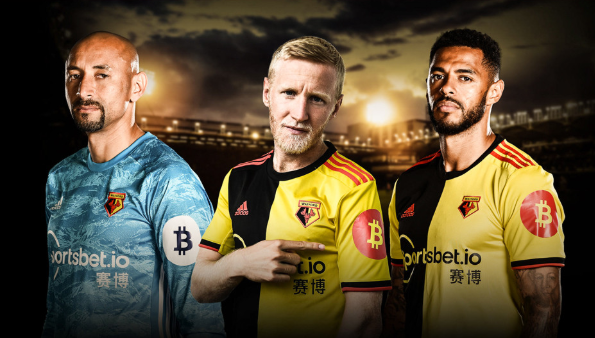 More diffusion for cryptocurrencies
When a large organization adopts innovative technology, it is always an important step forward. Now let's apply this to the football context. When a known club adopts cryptocurrencies, this only emphasizes that football has taken a great step forward from a technological point of view. Luckily, we are not talking about people having no idea what cryptocurrencies are.
More and more people are familiar with the concept of cryptocurrencies, which can help not only to get people to know them better, but to be encouraged to buy and use them. This should encourage cryptocurrency enthusiasts to continue promoting them and educating other people.
Positioning of cryptocurrencies in the world of football
Cryptocurrencies are becoming more and more common in football, providing fans, players and enthusiasts with more and more opportunities to use them. By closing this sponsorship agreement for his shirt, Watford FC only confirms the growing popularity of cryptocurrencies in the international football community. Now Watford will carry out a marketing campaign to increase the dissemination of the critomonedas, in addition to consolidating its strength and solid position in the world of football.
However, as with everything, a campaign alone is not enough. It is necessary that more and more clubs accept cryptocurrencies, while promoting them and campaigning for their use. The agreement that Watford has reached with BTC for the sponsorship of his shirt is part of an increasingly common trend in the world of football. FC Barcelona, ​​for example, has just announced an agreement with Socios.com.
In short, the more clubs adopt the use of cryptocurrencies, the more their position in the football industry will be reinforced.
More advertising for BTC
Since BTC will appear on the elastic sleeves of Watford FC, you will also benefit from additional publicity. It seems difficult to find a better way to make consumers familiar with BTC. Moreover, this measure also has the added advantage of increasing the prestige of the brand, which has already begun to transform the football industry.
Cryptocurrencies are becoming increasingly versatile, and Watford FC's decision to adopt them is a good example of that. It is true that there is no reason to launch the bells on the fly in regards to the popularity of cryptocurrencies, as there is still a long way to go. However, there are more and more signs that indicate that this type of currency is the future, and its adoption by people and organizations in their day to day continues to grow steadily