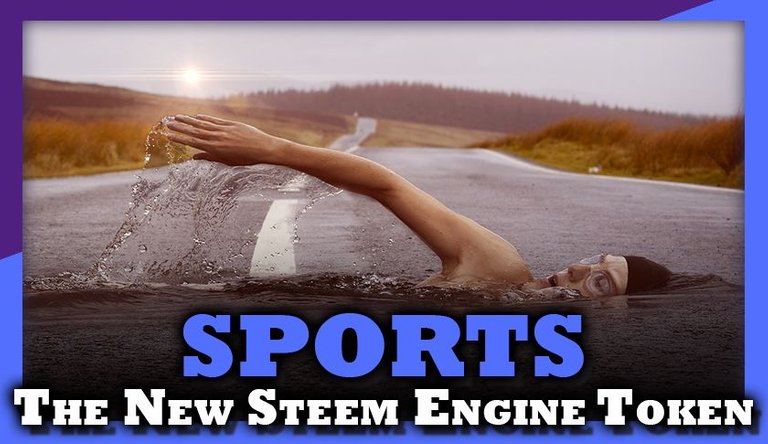 I am blown away by the speed of new developments, that all come out of the Steem Engine ecosystem: After Palnet and Splintertalk, we are now seeing a sports-focussed platform appearing with SportsTalkSocial, that rewards users with the SPORTS token.

The SPORTS Token
SPORTS is a new token powered by Steem Engine and their ScotBot, mimicking the behavior of Steem, with its own voting power through staking. It also comes with a nitrous instance of the Steemit condenser, the open source code of Steemit, but with the new token showing instead of Steem. By writing about sports-related topics, you can earn upvotes from SPORTS token holders and earn the SPORTS token yourself. It has an inflation system and a 50/50 reward split for authors and curators.
You can then earn both tokens at the same time - and when other tokens are eligible even those. Welcome to the age of abundance, thanks to niche ecosystems on the Steem blockchain. Steem Engine has allowed us to taste what Steemit has promised with Smart Media Tokens but never delivered.
Learn more about the token on the announcement post by @patrickulrich.

Similarities To Palnet And Splintertalk
Palnet just started two weeks ago with PAL and the price is up, already showing how much demand is on Steem for a change. Splintertalk with the SPT token has not even shown a use-case yet but people start to buy it up harder than Dark Energy Crystals, the actual ingame currency of @Splinterlands. Sports is a welcome addition to the hype and comes with its own nitrous instance of Steemit as well, making the transition so much easier for new users.
However, similar to Palnet and Splintertalk, you can simply post from any Steem frontend and use the tag #sportstalk. This will show your posts automatically on the SportsTalkSocial website and any other frontend using the SPORTS token. This could include a TokenBB forum and a ScotTube video platform for example. The possibilities are endless. And everyone can just earn it and stake it and earn even more.
The principle is always the same. If people like it and value the community and connected applications and services, then this will be another hit within our still small Steem ecosystem and help to grow the whole space even more. Sports enthusiasts might be much more willing to put money into SPORTS than into STEEM, yet earn both at the same time on SportsTalkSocial.

Integration With Other Tokens Like ActiFit
Now get this: You are using the @actifit app to earn AFIT tokens for your activity, like running or any other kind of sport. You post about that activity on the Steem blockchain, directly from the app, which will entitle you to some upvotes and AFIT tokens, depending on your score. By using the #sportstalk tag, you make your ActiFit post eligible for SPORTS upvotes and it will appear on SportsTalkSocial and any other future SPORTS app. So you earn STEEM, AFIT and SPORTS. Do you see where I am going with this? You haven't seen nothing yet!
All the existing and upcoming Steem app and dApps have this potential for operating in harmony with each other. There are so many ways to mix things up with what we already have, I am getting really excited for the second half of 2019.

Conclusion
Is Steem becoming something like Wordpress, but with monetization? It is not free to create a ScotBot token but it is affordable to small business creators to come up with an entire ecosystem of tokens - JUST LIKE THAT! A whole new form of creating and sharing value with niche investors and niche content creators. Sports is a huge niche and a logical direction for a token using the Steem Engine power.
Cross-tokenization of posts seems to be the future. You monetize your content on various platforms with various tokens ALL AT ONCE - and you never leave Steem. The value comes from the token holders, who all have their special reasons to hold their tokens. The inflation system makes all of them grow their accounts over time, while giving value to others. Even if you never invest a cent into any of these new economies, you can still participate and earn your share. I am excited and actually motivated to get out of my chair more and do the ActiFit and SPORTS grind.
How about you?