I was near the Singapore Grand Prix race track last Sunday.
The mall was more crowded than usual since it was one of the places used to walk toward the race track.
Video Source
Just imagine that each ticket cost few hundred dollars and people were still buying them like hotcakes.
Below was a picture that I had taken on the road.
Part of the roads were blocked because of this event and many cars would have to travel by alternative routes.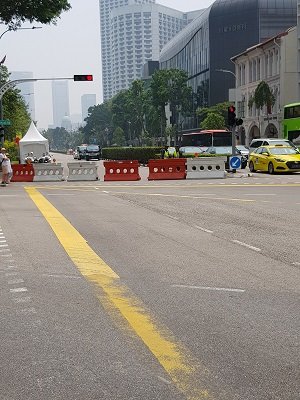 There were so much adjustment for this event so getting some sports car to race had heated up the city.
Many policemen and security guards were also deployed to ensure the crowd was orderly.
I know that many people decided to move to the sports viewing area by foot so it was really good exercise for them.
The sports cars would race but spectators would also race themselves to have a good view of this grand event.
Would you go through the trouble and spend hundreds of dollars just to watch this?
I guess it is a good reason for many Singaporeans to get out of the comfort of their homes to move more than usual for their Sports Car fever.
This is good exercise with a great motivation unknowingly.