I have passed by UFC Gym Singapore many times.
It has opened its first Singapore branch at Citylink Mall near Cityhall MRT station in Singapore this year and it plans to open 15 outlets in Singapore over the next decade.
It had a membership promotion from $120/month with 10 complimentary classes for the first 200 sign-up or by 30 June 2019 earlier in the middle of the year.
The above promotion must have attracted many to join as it is quite crowded on Sunday with lots of people at UFC Gym.
Below were two photographs taken by me on 22 September 2019.
There were quite a number of people at the Gym for Boxing as well as karate sessions.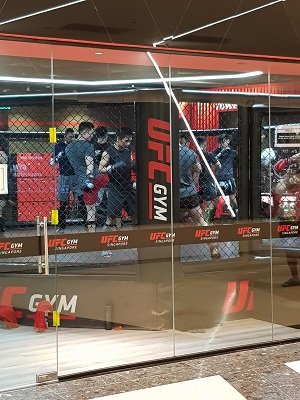 With the opening of UFC Gym Singapore, I am quite sure it is an added advantage to build the Sports Culture in Singapore.
Below is a videoclip for its opening ceremony.

Video Source
We can also find out more about its various sports activities for different age groups at UFC Gym Singapore Website.
https://ufcgymsingapore.com/
I had seen children in the Gym when I was passing by other days.
Singapore encourages Singaporeans to take up Sports to have a healthy lifestyle so UFC Gym must have lots of support in many different ways.
Disclaimer: This is my personal reflection and I am not in any position to instruct anyone what they should do. I am not responsible for any action taken as a result of this post. My post can only be a reference for your further research and growth. By reading this post, you acknowledge and accept that. All pictures in this post were taken were taken by @fun2learn on 22 September 2019.