I have been quite vocal in the past about how I didn't much care for Conor McGregor's rise to the top and really did like how he handled being on the top even more (less?), basically I was always rooting for whoever he was against because of his microphone antics, and that includes his recent fight with "Cowboy" Cerrone.
However, some things have happened in the past 30 days that might just turn me around.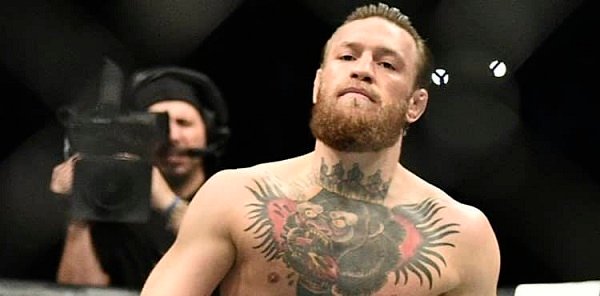 source
For one thing, when McGregor took this fight he stepped away from his usual verbal assault on whoever his opponent was that was what made me dislike him in the first place. His arrogance, whether deserved or not, was the reason why people like me cheered when Diaz and later Khabib defeated him in the octagon.
He didn't do any of this with Cerrone and I don't know if it was Conor's choice or something Dana White told him to do, but all of a sudden I was a lot more willing to accept him as a fighter, because he stepped away from his usual WWE type tactics.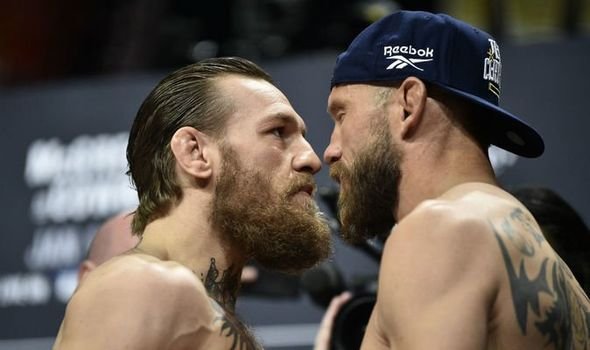 source
During the weigh-ins, the pre-fight press conferences and even the promo events that involved Conor, he did something I've not really seen him do before: He treated his upcoming opponent with respect.
This is something I have never expected of the guy and what in my mind at least, was the main thing missing from his overall persona. Say what you will about his opponents in the past, but each and every one of these guys deserves respect for the level of athleticism that they have achieved.... which brings me to my next point.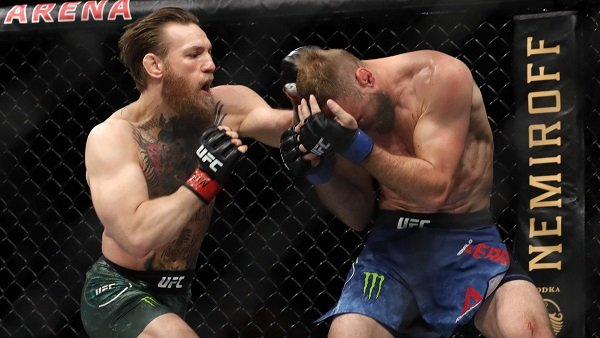 source
Conor completely dismantled Cerrone from the moment the fight started. He touched gloves, returned to his corner, and came out with a strategy that completely worked. Donald Cerrone is no fluke... he is one of the most experienced fighters in the UFC and McGregor simply took him apart.....in 40 seconds.
All of "Cowboy's" stats went out the window at that point, as his accomplishments seemed to be completely irrelevant in the face of a clearly superior opponent.
I would have liked to have seen the fight go longer, but if you have a look at Donald's face after the fight, you can see that he was badly hurt and Herb Dean did not make a mistake when he called that fight off when he did.
After the fight was stopped, Conor handled his post-fight interview with a grace and respect that I really do not expect of the man, and after hearing it all I walked away with a feeling of "Ok, maybe i can get on board with this guy!"
He didn't call out anyone in-particular, he praised Cowboy's past accomplishments and thanked the people that got him there. It was at that point that i realized that I have hated Conor this entire time completely because of his wild attitude and disrespect for other fighters. However, when he was able to totally win in a fight where I think his opponent only even threw one strike at him, and then acknowledge that effort that said opponent put forth to get there....well, that... for the first time since I have been watching Conor fighting, seemed like true class.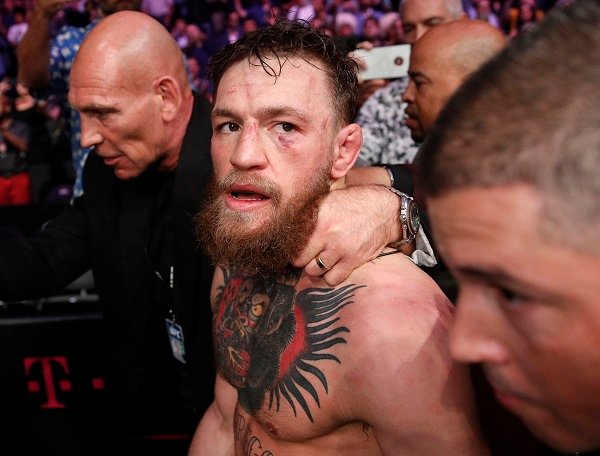 source
So now i can say for the very first time since the guy came onto the scene, that I am actually looking forward to his next fight. Well, that is if he can keep his demeanor respectful the way he has been for the past 6 months (I wonder if Dana had a stern talkin-to with him?)
I will be rooting for him in the future and am now at a crossroads about if I want him to destroy that stupid BMF belt and Masvidal, who currently holds it.
To be honest i would rather have Conor completely ignore that belt - because it is stupid and should have never been introduced, and instead go back and get one of the "real" belts instead. The problem is that the one everyone would like to see is currently held by Khabib and well, does Conor really want to lose again? Time will tell...