As the Pay-per-view events become more and more boring since I think that the belt-holders are far more interested in not losing than they are at actually winning, I tend to look forward to Fight Nights even more than the PPV's (which by the way are strangely and legally, free in Thailand.)
Tomorrow's event is going to be a winner and here is how I feel it is going to pan out.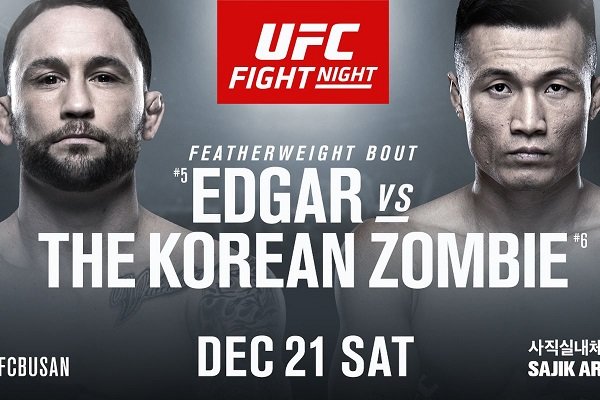 I'm only going to cover the main card since otherwise this will be 1000 words long and no one will read it. I'm also not going to choose HOW they win because I'm not trying to win a prize here.
Doo Ho Choi vs. Charles Jourdain
Jourdain hasn't been around in UFC for very long and the only time I have actually seen him fight, he lost. I wasn't terribly impressed with his performance then and I feel as though Choi is a fantastic boxer that brings the heat and always goes for KO victories. I feel this one will finish quickly.
my prediction? Do Ho Choi
Da Un Jung vs. Mike Rodriguez
While I do think that Rodriguez is the tougher of the two here, Jung is much younger and has shown tremendous cardio conditioning that has won him fights in the past. The only thing that I think Rodriquez could do to win this thing is to get really lucky on a high-risk maneuver. Mike isn't exactly the most consistent fighter and I think this could be the last time we even see him on a major card if he delivers a poor performance.
My prediction? Jung wins
---
Jun Yong Park vs. Marc Barriault
I'll be honest and say that I don't know a great deal about either of these guys because they are quite boring fighters IMO. It's my understanding that neither one of them really make much of an impact in any fight they are involved in as neither one really deals much damage with their strikes nor do either of them tend to go for ground and pound or submissions. I suspect this is going to be the only snooze-fest of the evening and it will come down to a unanimous decision most likely because of stats rather than actual punishment.
My prediction? Park wins
---
Kyung Ho Kang vs. Liu Pingyuan
I think this might end up being the only one of the main card fights that spends a lot of time on the ground. "Mr Perfect" Park is a submission specialist and he has racked up 11 wins by doing precisely that. Pingyuan is perhaps a more balanced fighter but I think that Kang has the advantage if this goes to the ground, which i feel it almost certainly will.
My prediction? Kyung Ho Kang wins
---
Frankie Edgar vs. The Korean Zombie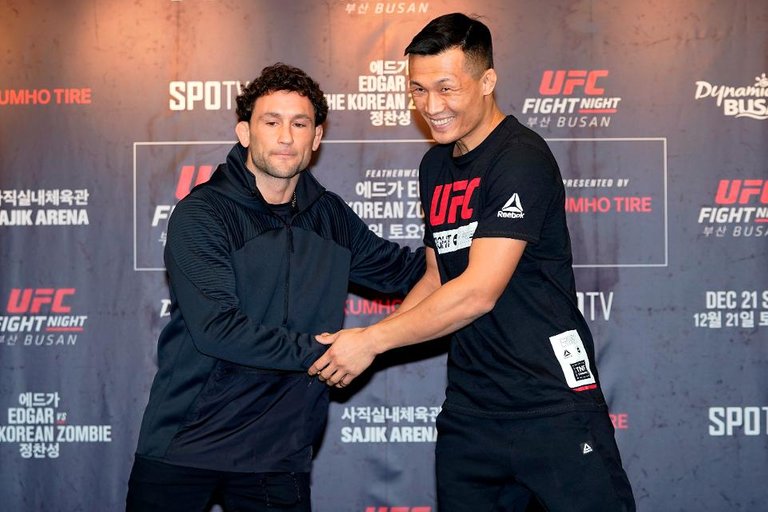 source
In what is bound to be one of the most respectful main events of all time, Edgar and Zombie are two of the most soft-spoken men in all of UFC and I really don't want to see either of them lose.
I think that Edgar has more to lose in this fight, because he has been on a tumultuous path of losing more than winning lately and the featherweight division is absolutely packed with talent right now. Dropping 3 out of 5 would likely see Edgar get relegated to almost non-issue status, despite his higher ranking that I feel is largely based on his past rather than his present.
The Korean Zombie, win or lose, will always remain a favorite of Dana White because they need big Asian names anytime an event happens in Korea, Japan, etc and at the moment Zombie is the biggest name in Asian MMA.
Edgar is also a last-minute addition to the roster and he was actually in the process of training to move down to bantamweight when he got the call to be in this event just a few weeks ago. I don't know how much of an issue that is for a veteran like Edgar, but it certainly can't help.
I feel as though Zombie, because of his ability to withstand tremendous damage while dealing it out is going to have the upper hand from start to finish.
My prediction? Zombie Zombie Zombie
You might notice that I have chosen all of the locals for victories but that is based on me genuinely believing they are the better fighters. I don't think that it is much a secret that UFC "stacks the deck" in favor of the home crowd and I think that is what is happening here. They are trying to get a greater foothold in the lucrative Asian sports market, and you can't accomplish that by beating up their fighters.
How to you feel about my choices? Sorry it's so long but I really couldn't make it any shorter than that!