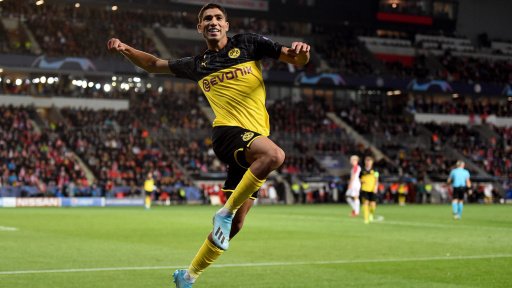 Bayern Munich are keen to pick up Achraf Hakimi this summer, according to the media AS. The right-back has been sent to Borussia Dortmund on a two-year deal, but still owned by Real Madrid. Bavaria has now made Hakimi a priority, and they are willing to spend big on both the transfer price and the salary to secure the 21-year-old's qualities.
After hearing about the interest, Hakimi was allegedly open to a change based on two reasons. The first reason is the lucrative salary he wants to earn at the club, which amounts to around $40 million a year - the second is, according to AS, the opportunity to extend his stay in the Bundesliga, as Hakimi has adapted to the league in the most beautiful way.
The right-back's excellent performance over the two years at Dortmund has seduced Madrid and Zinedine Zidane to such an extent that they will retain the Moroccan at the Bernabeu, but Hakimi himself is not convinced. The player fears for his place in the starting lineup, where Dani Carvajal is usually the first choice - a bench seat cannot satisfy Hakimi, which the player has explicitly told the Madrid team.