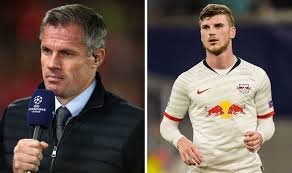 Liverpool legend Jamie Carragher thinks it was a mistake when Liverpool chose to halt their hunt for RB Leipzig striker Timo Werner last week. He believes the club may regret that decision.
Without the Corona pandemic, I'd thought for sure Liverpool would have picked up Werner. Everyone knows Liverpool's top three are among the best in the world right now, but Werner would have played a lot of matches next season. He could be the ideal to continue Liverpool's success.
Carragher points out that Mohammed Salah is going to play national championships for his country and that Mane and Salah are then going to the African championships, which would mean plenty of playing time for Werner. On the basis of this, he believes that "The Reds" will regret that they did not secure the German.
At last Chelsea allegedly came on the pitch and negotiated everything in place with Timo Werner, which he's expected to be presented with "The Blues".