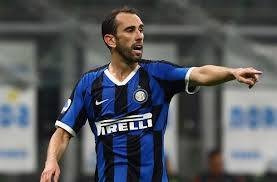 Uruguayan Inter center back Diego Godin joined the Serie A club for free last summer from Atletico Madrid. The 34-year-old defender has played 17 matches in Serie A for Inter, and overall in the national league he has almost split the playing time equally with 21-year-old Italian Alessandro Bastoni, who plays the same place.
Although the veteran Godin is not a regular man, he has no plans to leave the Milan club. In an interview with the Italian newspaper Corriere dello Sport, the Uruguayan talks about the rumors that indicate an exit:
The truth about the rumors that I want to leave Inter is that it got a lot behind me. Since coming to inter, I've had a good time. Both with the club and the fans. I feel the club believes in me and I feel at home. I have never considered leaving Inter. I feel like part of a project here, and the atmosphere in the dressing room is spectacular. My intention here is to respect my contract and enjoy this beautiful adventure in Italy with the "Nerazzurri jersey".
It was my choice to change here, and I did so with an intention to help the club win titles. To win as much as possible. I understand that the club is happy for me too. And it fills me with pride. It is not true that I want a move away from here. I didn't talk to anyone about this. I want to stay here and do what is necessary to help the team. If the manager (Antonio Conte) Is happy for me, then my Inter-adventure can continue.