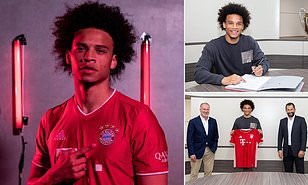 Earlier in the day, Bayern Munich picked up Leroy Sane in Manchester City, and already it has been made clear what a number that the technical marvel should dry out for the South German masters in the upcoming season. Leroy Sané takes over the squad's Brazilian Phillipe Coutinho's number ten in the upcoming season, that according to German club official Twitter profile.
This news is interesting for the rumors about Coutinho's future and whether it should take place in German or at home in Catalan Barcelona. Coutinho has already been linked with Chelsea and there has been no clear statements from Bayern Munich on whether or not the Brazilian is a future value for the team.
Philippe Coutinho is probably not excited about this release of the number change, and perhaps this was a definitive signal that Coutinho should seek new pastures in the upcoming season.