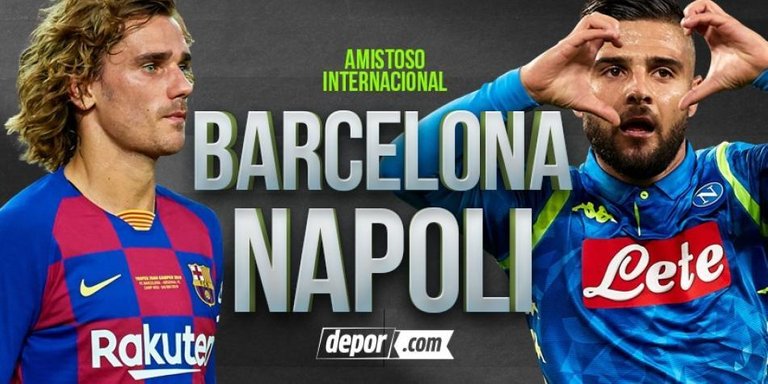 Barcelona will look forward to crowning their preseason tour on Saturday when they take on a motivated Napoli side in their second leg game. The first leg on Wednesday ended 2-1 in favour of the Spanish champions, after Rakitic's late strike ensured that Ernesto Valverde's side will be in Ann Arbor with a goal advantage. It's been an experimental preseason tour for the Catalan coach, who is trying out his chances before he finally settle for his game plan and squad ahead of the season.
Wednesday's friendly match encounter between the Spanish champions Barcelona and Italian side Napoli at the Hard Rock Stadium, saw Ernesto Valverde's side continue to boost their morale ahead of the coming season. The Catalan coach has come under severe criticism especially after Liverpool and Valencia stole the UEFA champions league and Copa del Rey trophies from under his nose respectively.
A performance that saw fans calling for him to be fired. But he is favoured because the Barcelona President still believes in him and has decided to allow him go on with his job. He has got a huge task ahead of him, the most important one being to win the EUFA champions league which has eluded Barcelona for some time now. European glory is all they crave for and hopefully with the new signings, he has got more player options at his disposal.
The team have been playing series of preseason matches to test and warm up themselves ahead of their demanding challenge. With signings like Griezman already adapting in the squad, one can only imagine what Barcelona are up to this season. The team doesn't look like they will be leaving any stone unturned in their quest to lift the EUFA Champions League. It's a duty they owe to their supporters and there is no better means of pacifying their fans for the past disappointments.
Rakitic's second half goal with just 10 minutes left in the clock put the match on Wednesday beyond the reach of resilient Napoli side. The Italian club gave Barcelona a run for their money in first half, forcing Barcelona's goalkeeper to make lots of fine saves. They didn't take their chances and of course a team like the Catalan giants will always make you pay for your profligacy. It was Sergio Busquets who put Barca on the lead with a well taken curl into the net. Yah, Sergio is not known for goals but he showed on Wednesday against Napoli that he too could make the net dance if any team underrate him around their goal line.
However, Napoli was determined to leave a scar on Barcelona in front of over 57,000 spectators. Lorenzo Insigne was a big threat to Barca's defensive line. It didn't take too long for them to get an equaliser and cancel out Sergio Busquet's opener. Samuel Umtiti later scored an own goal to keep the score line at 1-1 before the halftime whistle. Barcelona came back into the second half a more improved team, and they pressured the Italian Club every now and then. Valveerde made four changes that also saw the French Dembele coming in. The pacy young star added force to the attack and of course, Napoli's defense were working harder in second half than the first half.
The Italian side also created few chances, but it was Rakitic's hammering goal that made all the difference. Rumours have been making the rounds that the Croatian or any other midfielder might be leaving the Camp Nou in this transfer market to create space for new signings. However, I think the club will have to reconsider letting Rakitic go after a not so bad preseason outing. Wednesday's goal against Napoli in their first leg match was his second goal for this preseason and they always came when Barcelona needs it most.
Barcelona will be going into Saturday's second match against Napoli with Lionel Messi ruled out for sustaining a calf injury during one of their preseason training session. The Argentine is recuperating and will be looking forward to making the lineup in their first league game against Bilbao. As for Napoli, they've got a tough opener too in their league and that's gonna be on the 24th of August. Guess which team Napoli will be playing? Fiorentina! That's gonna be a tough way to start for both squads. However, this Barcelona team doesn't look like they will be needing Messi to beat Napoli on Saturday, especially with Luis Suarez, Griezmann and co. are all ready to finish their US tour with glory.
In general, it's gonna entertaining and am not gonna drop my keyboard without making my prediction for Saturday's game known. Am tipping Barcelona to win 2-1 at Ann Arbor. Do you have a prediction? Feel free to drop it in the comment section.