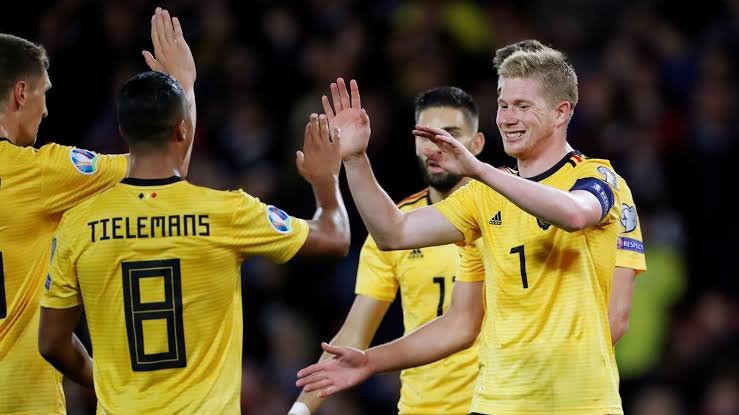 The international break have seen lots of mouthwatering encounters, and trust me, it's been worthwhile. From the display of unparalleled superiority and unmatched dominance by top teams to the struggles for survival by underdogs, the Euro 2020 qualification games kept the screens enticing to football fans around the globe.
I wasn't really attracted to Friendly games due to the absence of some top players on many teams. Also, Coaches see it as time to test new players and experiment other options in the teams, all these deflates the my interest in friendly matches. Thanks to the qualifying matches for the upcoming Euro 2020. Well, I wanna talk a little about the Belgium vs Scotland game that went down on monday at Hampden Park.
It was thrilling to watch, especially if you're a Belgium fan or you have a special administration towards some players in the squad. But I don't think any Neutral football enthusiast will enjoy watching a match that one team is having a rollercoaster ride. Suspense, uncertainty and tension are some of the interesting features of an awesome football match to an unbiased spectator.
The match ended 4-0 in favour of Belgium as they had no much problem dislodging the Scottish national side. The win is an extension of Roberto Martinez's perfect run since the start of the qualifying rounds. Belgium have won all their six qualifying games thus far and the win against Scotland on Monday seems customary to them. The Scottish side have only managed one win against Belgium in their last 14 games, escaping with two draws and have suffered 11 defeats. I guess Monday's result wasn't a big deal then.
Kevin De Bruyne Stars For Belgium
Apart from Romelu Lukaku has has found form of recent since his departure to Inter Milan this season, the Manchester City midfielder is another heartbeat of the Belgium National side. Week in week out, this is what he does in Manchester City shirt, little wonder why Pep reposes so much confidence in him. Monday saw him in national duty and of course, you wouldn't have expected anything less from a player like De Bruyne in his day. Netting a goal and providing three assist against Scotland is not a feat you see any player achieve on a regular.
Last season saw De Bruyne struggle to enjoy his game due to injuries, and though "The Citizens" managed to retain their League Title, Kevin played very little part in that glory. He was only able to get two goals and two assists for Pep's side after 19 premier league appearances for the defending champions. However, it seems this season is gonna be more interesting for him, as he continues his fine form for both Club and country.
His performance against Scotland on Monday made him the first player to provide three assists in a single match of Euro qualification. He found Lukaku at the ninth minute and the in-form inter forward made no mistake in opening the scoreline. It was Lukaku's 49th goal for his country and trust me, he is already making a name for himself as the country's leading goal scorer. Like, how the hell did Manchester United lose that guy!
De Bruyne went on to provide another assist to Thomas Vermaelean and Toby Alderweireld before netting his goal to make it 4-0 at the 82nd minute. He is all shades of his best so far this season, as he has already gotten a goal for Manchester City and Five assists in City's opening four games, making it eight assists in his last 6 appearances in all competition. Bravo!