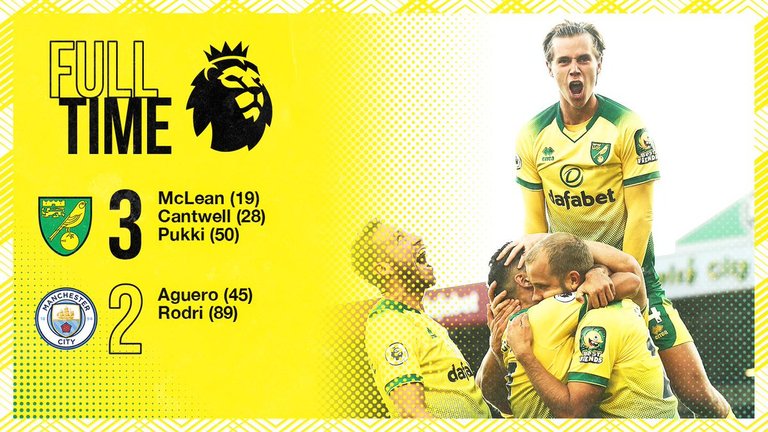 Certainly not a result many would have expected from a team that many football analysts and fans have branded the most dreaded squad in the English Premier league for the past two seasons. Manchester City and Liverpool have risen to become a consuming flame in a football league that dominance is the least of its features. Pep's side have gone all the way to lift the league two consecutive times and are the defending champions, a feat that is not common in the English premier league.
Here they came again this season, perhaps to win it the third time in a row, a mission that many think is actually possible if Liverpool slacks. Jurgen Klopp's side are the only squad that can exert pressure on the defending champions as far as the league is concerned. However, with City having succumbed to their first league defeat of the season to Norwich few hours ago, The Citizens would have been reminded that it's still the premier league and not the "French Ligue 1."
This 3-2 loss to Norwich will add more flesh to Liverpool in their contention for the title. Klopp's side defeated Newcastle United 3-1 earlier in the day to maintain their perfect start to the season. Whatever must have happened at Carrow Road today, the Citizens didn't see it coming, neither did majority of punters. I think City were made to pay for their defensive errors, and for Norwich, it's a deserved win, thanks to goals from McLean, Todd Cantwell and of course Pukki. City are now five points behind the European champions Liverpool, and many don't see The defending champions toppling the reds again.
In general, it was a show of commitment and resilience from the home side who are currently missing some top players due to injury. Actually, when Sergio Aguero pulled one goal back before halftime to make it 2-1 for City, I was thinking the Citizens will fight back and claim the three points, but I was wrong. Daniel Fakel's men had only one mission against the defending champions, and that was to win. Pep's magic failed him and the introduction of De Bruyne, Jesus and Mahrez in the second half couldn't help him. They may go on to win the league, who knows, but for now, Norwich is the first team to defeat the defending champions this season. Bravo! Norwich.