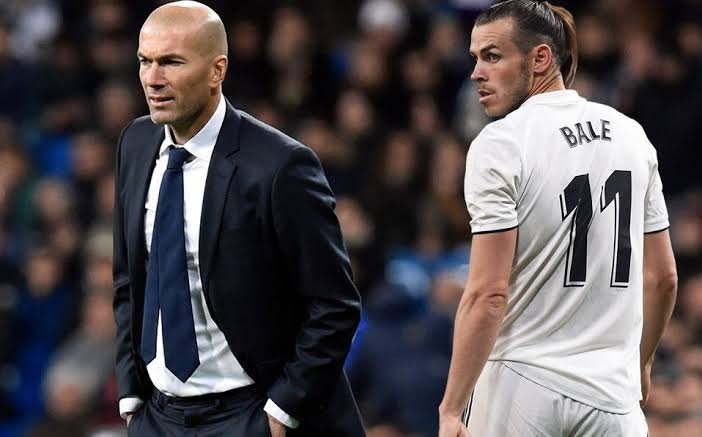 Lots of observations have been advanced by football lovers the past few weeks as regards Real Madrid's current form, judging from their preseason results so far. While many think the French Boss is playing a mind game ahead of the season, others are of the view that he is not concentrating in the team enough.
His lingering controversies with Gareth Bale seems distracting and some sports analysts feel the squad will continue to be distracted if Zidane doesn't focus on mending the team cracks. After their ignominious defeat to Athletico Madrid few days back, many would have have expected the former European Champions to show hunger to pacify their fans who were disappointed, but another 1-0 defeat to Tottenham on Tuesday night in Munich was all Los Blancos could emerge with from the encounter with.
It's very shocking to see a team like Madrid getting use to defeats on regular basis, even though it's a preseason tour. At least many would have expected something that looks like drive to bounce back from their 7-3 humiliation by Simeone's side, but their performance against Spurs raises more doubts ahead of the season. The whole team segments played far below expectations, from a jittery defense to non coordinated midfield and then to a weak attack. While Benzema was busy firing wide, Marcelo did his best by making lots of defensive errors, one of which led to Harry Kane's winner goal.
Spurs were far more classy and would have won with more margin if they had taken their chances, thanks to the man in between the sticks for Los Blancos. I think their preseason victory so far was against Arsenal and it was a penalty shootout. Since then, they've gone on to lose to Bayern, Athletico Madrid and even Tottenham. If one look at their encounter with Spurs on Tuesday, it will appear as though the English team have played more warm up games than Madrid, but in fact, Madrid have played more(I stand to be corrected). Though Zidane's team were better than what they offered against Athletico, they're still far from ready.
Eden Hazard Yet To Find His Spark
The former Chelsea most Valuable Player is still trying to find his stamina in his new home, as he struggles to make an impact in an epileptic Real Madrid Squad. The Belgian captain is Madrid's biggest signing under Zidane's second missionary journey at the Bernabeu. He was in top form for Chelsea before leaving for Madrid, helping the Blues clinch the Europa League under Sarri. Having hit 20 goal mark last season for the Blues, the Belgian star is being looked up to for inspiration in his new home.
Against Tottenham, he showed great sign of improvement from his former appearances for Madrid. His dribbling runs and drive were felt by Spurs defense, of course Tottenham are familiar opponents having played against them for years in England. In second half, one his low shots was blocked by Spurs young star Japheth Tanganga. With the current state of Madrid, Hazard knows the burden on his shoulders and the fans are looking up to him to inspire the team.
Zidane Needs To Start Watching His Back
After the winning the UEFA Champions league three times in a row, the French boss had left a big shoe for whomever will come after him to manage the team. With Lopetegui and Santiago Scaloni unable to uphold the team's standards, Florentino Perez had no choice but to persuade Zidane to return and save the club from total crumble. The fans too cried to have him back and after much appeal, Zidane decided to come back and mend the cracks at the Bernabeu, though with some preconditions, especially as regards signing of players.
However, Zidane's return doesn't seem to be the messaic second missionary journey many expected. And while many are still hopeful of change in the coming season, others feel he shouldn't have come back as his foot doesn't seem to fit into the big shoes he left behind. Maybe his feet grew smaller or he needs more time to experiment his warriors. He can be excused on the basis that it's a preseason performance, but he should also hope this form won't linger into the season.
Keylor Navas Deserves To Be Madrid's First Choice Goalkeeper
In a current Madrid team that appears clueless as far as this preseason is concerned, someone is setting the standards and standing out from the herd, and that's Madrid's presumed second choice goalkeeper Keylor Navas. With Thibaut Courtois sustaining an injury, Navas got an opportunity to test his gloves against Tottenham on Tuesday's Audi Cup encounter. He was the difference in that Madrid squad and was self motivated despite Madrid's defensive lapses.
His stellar performance on Tuesday against Spurs has sparked lots of opinions from fans on who should be Zidane's first choice goalkeeper. With Courtois appearing not at his best especially after conceding seven goals against his former club, Navas could be Madrid's first choice goalkeeper if he sustains his performance. Against Spurs, his fine saves was what stopped Tottenham from humiliating Los Blancos with more goals. For me, Navas was the man of the match and I think Zidane should start considering him as Madrid's best for now.