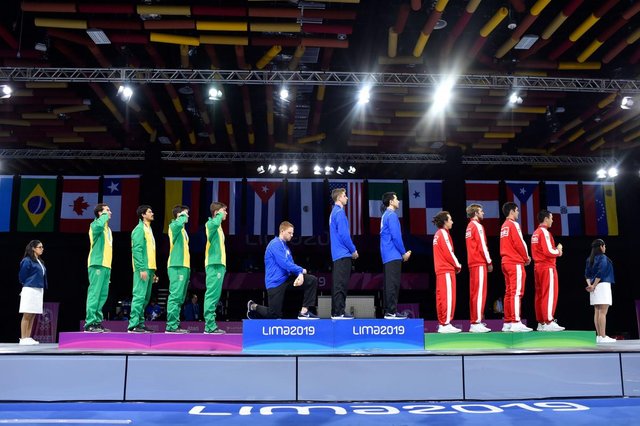 Image Source: link
Do you guys remember Panthers Eric Reid? The one who kneels during the national anthem of the United States for the past season of the NFL? Well, there is a similar case to this one, where 2 American gold medalist protested for the Racism, Gun Control, mistreatment of immigrants in America.
Race Imboden, an American foil fencer gold medalist took a kneeling during the medal ceremony at Lima 2019 when the National Anthem of America was being played. While Gwen Berry, an American hammer thrower raised a fist on the podium.
We must call for change.
This week I am honored to represent Team USA at the Pan Am Games, taking home Gold and Bronze. My pride however has been cut short by the multiple shortcomings of the country I hold so dear to my heart. Racism, Gun Control, mistreatment of immigrants, pic.twitter.com/deCOKaHQI9

— Race Imboden (@Race_Imboden) August 10, 2019
Luckily, the two athletes were only reprimanded and got a 12 months probation and were not suspended because of their actions. If they were to break the law of the Olympics this time around, they might get a serious punishment.