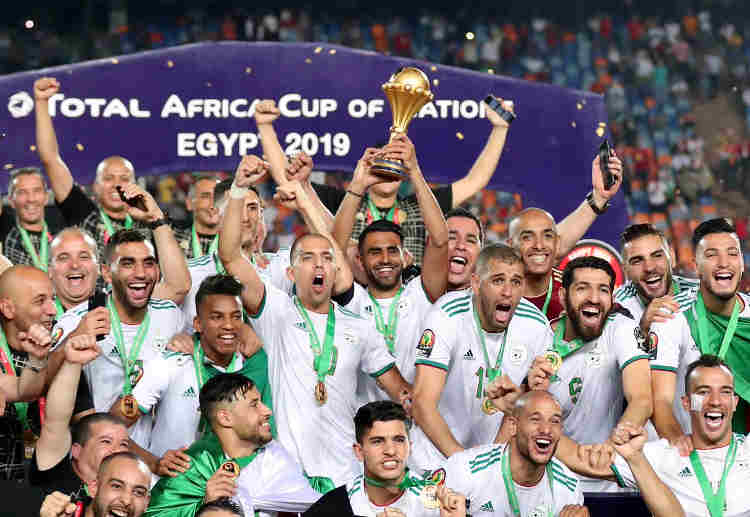 image source
It was a dream come true for Algeria yesterday after defeating Senegal in the final game that concluded the AFCON 2019 edition hosted by Egypt. Algeria won the AFCON for the second time after yesterday's heroics. This is coming 29 years after winning their first and only AFCON title.
The game was decided by the early goal which came 2 minutes into the game through a Baghdad Bounedjah's shot which was hugely deflected and looped into the Senegalese team net.
Expectations were high for Senegal as they have never won Africa Cup of Nations before and it was expected that they are going to put in a good fight, but this was not to be so as it seems they were totally disorganized by the early goal.
Although, the Senegal team had a strong penalty appeal later in the game which was strongly protested by the Algerian team that the VAR had to be consulted by the Referee. But the penalty was ruled out after the VAR was consulted.
I was not surprised by the outcome of the game which produced Algeria as the winner, as I early predicted in my match preview post that Algeria was going to win, but I expected a very tough game which wasn't so.
Well, the tournament has now come to an end, and here is the rundown of the highlights;
Winner - Algeria
1st Runner up - Senegal
2nd Runner up - Nigeria
Best Player of the Tournament -Ismael Bennacer (Algeria)
Golden Boot Winner - Odion Ighalo (Nigeria)
Golden Glove Winner - R. M'Bolhi (Algeria)
Congratulations al the winners, and a very big congratulations to CAF for a successful tournament!