More than 70,000 people attended the ceremony on Tuesday night.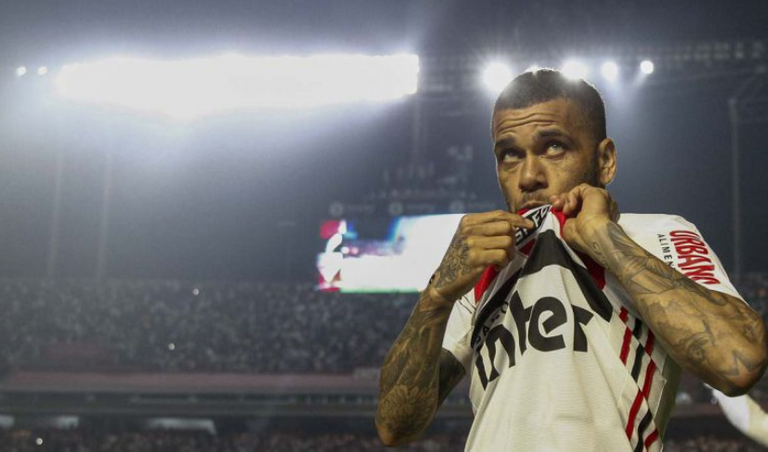 Daniel Alves was introduced on Tuesday night as a Sao Paulo player and was entitled to a party at the Morumbi stadium, where he was greeted and celebrated by over 70,000 people.
At the Cícero Pompeu de Toledo stadium, thousands of São Paulo fans went wild, in a ceremony that was attended by several former players and a lot of mixed music.
"Guys, I wanted to say that São Paulo today did not hire a player. Sao Paulo hired a fan (fan) just like you ... I want to thank the moment you are providing me, I promise to repay with the same delivery. I hope that together we can return the joy of making history with Sao Paulo. Thank you very much for the reception. Enough talk, and let's do it" said the player who returned 17 years later to Brazilian football, in a speech full of applause from the 'fans'.
"I come to Sao Paulo to give results, I do not want anyone to think that I come to end my career. I have many goals" he said.
Veteran Brazilian soccer player Dani Alves, who was out of team after a contract with Paris Saint-Germain, signed for three years, until December 2022, for Sao Paulo, returning to Brazil after 17 years in Europe.
The right-back added in the Copa America 2019 edition, proving that he was considered the best player, the 40th career title, which started in Bahia and had European spells with Sevilla, Barcelona, Juventus and Paris Saint-Germain.
Highlight for the three 'Champions' won at FC Barcelona in 2009, 2011 and 2015, along with, among others, Lionel Messi, and the Brazilian is still the most assisted player in the Barça for the Argentine.