Hardfork 21 is coming! After reading countless posts, I finally took a better understanding on what will happen on August 27. However, this post is only concerned about the - 50 - 50 reward split which will surely affect Sportstalk's @sportsvoter.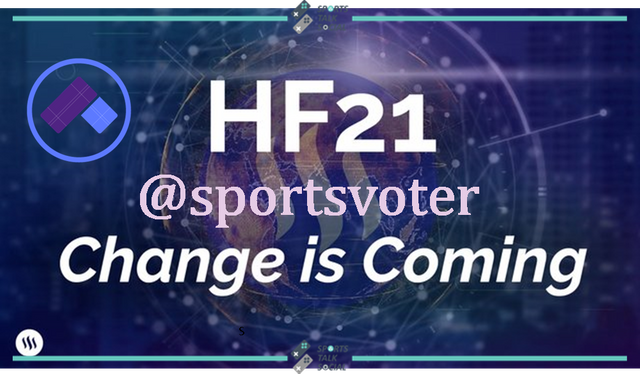 Graphics credits to : @steemitblog
Bear in mind that even before HF21, Sportstalk reward ratio has been 50% authors reward, 50% curators reward already. So sportstalk isn't affected on the new reward system (because it's already been 50-50).
The only concern of this post is the possible loss of ROI for sportstalk bidders due to the 50-50 reward split update. For others who haven't heard about @sportsvoter :
@sportsvoter is the Sportstalk's official bidbot that accepts payments in SPORTS in return of a steem upvote. Vote value will also depend on the amount of Sports tokens a user bids to @sportsvoter account.
The good thing about @sportsvoter is that 95% of the Sports payments received will be burned by sending it to @null account, which will help reduce Sports liquidity. SP delegators to @sportsvoter gets their daily earnings by sharing 20% of Sportstalk's daily reward pool which they will be paid 75% in Sportspower / 25% in liquid Sports.
---

Credits : @julstamban
---
As mentioned about the possible loss of ROI , we will be at loss if the voting calculation won't be reconfigured. I'll give an example below.
if I send 7000 Sports to @sportsvoter with my steemit post link, @sportsvoter's vote value will be around $1.72 - which I'll get 75% of it = $1.29 when the post gets its payout.
if I send 7000 Sports to @sportsvoter with my steemit post link, @sportsvoter's vote value will be around $1.72 - which I'll get only 50% of it = $0.86 when the post gets its payout.
If you'll continue the calculation (in Steem received reward), we will end up losing where we should expect a +10% return to the original value (of Steem) we are bidding. It's not profitable anymore, right?
Please don't get me wrong, I love @sportsvoter and that's the reason why I am expressing my honest thoughts about it and possibly communicate with Sportstalk management and the community.
---
Possible Reconfiguration Solution
I believe the guys of Steembottracker are surely aware of this, so there might be some announcements soon. As a concerned user, consider this as a heads up to the management and the community regarding this. I think this calculation might be true :
If we observe the current system (pre-HF21), just multiply the required Sports by 2/3 (0.6667) which means in the example above, I only need to send 4690 SPORTS to get a vote value of $1.72 of sportsvoter. Just multiply the required sports by two-third.
---
If you have questions, clarifications, or other important points to mention regarding this topic - please don't hesitate to communicate in this post. If I'm wrong about this, please educate me and please provide a correct one (if). I'm looking forward!