Back in the late eighties and early nineties I was a huge fan of the 'Sport of Kings'. Horse racing has always been a part of my life, my Grandads closest friend was a small time trainer and farmer, as was my Grandad, and school summer holidays were spent on the farm with quite a few much anticipated days out at his friends racing stables.
Other happy times were spent at Doncaster races, especially at the National Hunt meetings, he preferred the 'sticks' to the flat and when I grew up, my love of horses and racing hadn't diminished.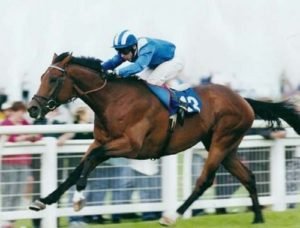 Nashwan
Bookies
The additional understanding of bookies and the racing papers that were full of numbers and statistics only added to the excitement. Betting shops back then were very different to the clinical, bright and almost respectable places they are today. Some of the more modern chains had monitors and screens and video coverage, but the older independent bookies still had a gantry, where someone would be chalking up prices as the live audio from the racecourse came through the 'blower'. There were no windows, the air was thick with cigarette smoke and there was a certain camaraderie with the other punters who of course, more often than not, opposed each other's selections but were united in their determination to beat the bookie!
One of my earliest lessons at the races was when my Grandad told me; "You'll never meet a poor bookie", and he knew a few, they all drove Jags and wore three-quarter length camel coats.
Now despite being brought up on the National Hunt racing, I much preferred the Flat. The rush you got when you stood by the rails as the horse flashed by, just inches from you in a 5-furlong sprint is something you can never appreciate unless you've actually been racing. The sense of speed and power isn't done justice by the TV pictures. Standing there as a large field thunders past is awesome and the speed at which they travel is jaw-dropping and barely believable.
Nashwan
I would guess every racing fan has a favourite racehorse and in my case, his name was Nashwan. Not because he won me any money, he didn't. His price his SP (Starting Price, not Steem Power!) was always so poor that I wouldn't take the risk. Odds-on favourites were never my game! No, he was my favourite because he was simply magnificent. Nashwan was bred in Kentucky, USA (thank-you @patrickulrich !)and owned by Sheikh Hamdan Al Maktoum and was brought over to the UK to be trained and raced.
I first saw him run as a 2-year-old, opposing my long forgotten selection in that race, which I have since googled was the ' Yattendon Maiden Stakes' at Newbury in August 1988 and I remember a buzz about his debut from those in the bookies who were 'in the know'. He was a large, powerful horse, beautifully turned out with a white star on his nose and he won. Not as impressive as his 6/4SP suggested but I remember well, my feeling that he wasn't really being pushed out. Willie Carson who was riding him for his retained trainer, Dick Hearn was still just using 'hands and heels'. He went straight into my 'ones to follow book' but I had to wait for the final Ascot meeting in October to see him turn out in the Listed Autumn Stakes over a mile, the final, and biggest test of a 2-year-old juvenile before the flat season ended, and a huge pointer of a horse's ability and possible big race entries for the following peak season as a 3-year-old. Around 2-furlongs out, he was kicked on and powered away to win at odds-on by over 4 lengths. It was extremely impressive and I was left with a sense of anticipation for the following season and the 'Classics'.
Ears pricked back and victory in sight at the 1989 2000 Guineas
For flat racing, horses are classified as juveniles and start racing at 2-years-old. They are generally at their peak at 3-years-old and most of the biggest races in the calendar are for 3-years-old and upwards. If a horse is very successful as a 3-year-old, it is often retired from racing and sent to stud with a few exceptions. The horses that aren't so successful will stay in training and often go onto hurdling and then jumping at 5 or 6-years old. Experience counts for a lot in the Jumps game!
Not all horses though are at the same level as the age classification for racing means that all horses born in the same year share a birthday of 1st of January hence some are more mature than others! There are also races specifically for stallions, geldings and mares as well as open races in which either sex can enter.
Coming of Age
Generally speaking, many horses are entered into an early season warm-up for the 'Classics' but not Nashwan, he was thrown straight into the 2000 Guineas at Newmarket in May 1989 and came in the winner by a length, but notable for him hardly being pushed too hard. The talk was now of the big one. The Derby. Could he step up in trip again to take English racing's greatest prize? My own opinion was yes, he was a big muscular beast who had matured well and he had a turn of electrifying pace which we'd seen the previous year.
The 1989 Derby
I've just watched this for the first time since the actual event, 30 years ago and if I'm honest, if I'd of had money on him, I'd have been on the edge of my seat until the final furlong and a half! Instead, I had a couple of quid on an outsider just for fun.
Watching this now, during the first couple of furlongs he looked like he was being scrubbed along to get into his stride and pace, coming around the outside on the final bend was also brave and then tucking into the rail where there is always a chance to get boxed in. When he first kicked on as they left the bend, it seemed like an age before he got into top gear and needed a few waves of the stick to keep him up to the job. It didn't look effortless like I just read on Wikipedia, but it was certainly effective. A 5-length win against the creme de la creme of English racing is a feat indeed. Little Willie's experience and horsemanship also playing a part of course.
This pair of classics was followed up by the Eclipse at Sandown, another 5-length win over his mainly elder peers with the 2nd placed horse that day going on to win the Breeders Cup Mile. A real stamp of the form if ever there was one. Next up was the King George VI and Queen Elizabeth Stakes at Ascot. Another top quality Group 1 race. This time the victory was hard fought, though with 4 huge races within 10 weeks, hardly surprising. The plan was to enter him in the Prix de l'Arc de Triomphe at Longchamp, France in October and so a warm-up race was booked in France for September over the same course and distance as the Arc. The ground was soft that day and perhaps it was the heavy running, or he was simply tired but entering the home straight, he made his move to challenge and......nothing. He couldn't get into top gear and was beaten 2 and a half lengths into third. No real explanations were given and he was subsequently pulled from the Arc and never raced again.
I didn't see the race that day and I'm glad, nor am I looking for it on YouTube. I will simply remember him winning the Derby in style and an Eclipse win that I really enjoyed. As a matter of interest, the Arc that year was won by a horse named 'Carroll House', the horse that had come in an 11 length 5th place in the King George. Ah, what might have been!!
Nashwan went to stud and sired many future winners and champions but no one has yet surpassed that unique 4-timer he achieved back in 1989 and for me, doesn't get the credit from the racing historians that he deserves.
He died following routine surgery in 2002. Gone, but not forgotten and his family tree are still delivering winners!
All images and videos are used without the express authorisation of the copyright holders. They are used under what's known in British law as "Fair Dealing" or under US law as "Fair Use" exceptions. For example, exceptions relating to research and private study, criticism or review, or news reporting. For more information visit the UK Gov website or the US Gov website.