Some Thoughts on Pacquaio vs. Thurman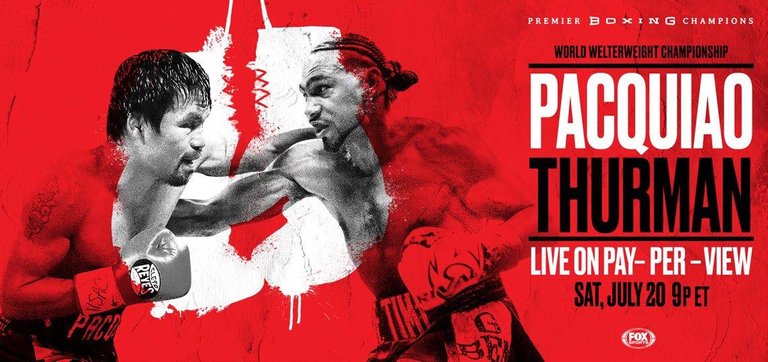 Pacquiao vs. Thurman
Less than 10 days and another great fight will happen at the MGM Grand Garden Arena. Based on the current bets, Keith is regarded slightly as an underdog with a -105 rating [that means that you need 105 bucks as a bet to win 100], on the other hand Manny has a rating of -115 [risk 115 to win 100]. Of course, this might still change as the day arrives. Predictions from boxing experts and analysts have enough influence that can surely sway how boxing fans view the odds and bet on them.
Who's my underdog?
Personally, I think Pacquaio is the underdog here. A 10 year age gap is an obvious disadvantage. This is true not only in boxing but in any other physical sport. As a sportsman, you cannot fully retain 100% of the strength you have in your 30's up until your 40's. Entropy, it's a universal law. Everything deteriorates and this is the same for an athlete's strength as he/she grow older. But Manny beat Adrien Broner 6 months ago, with Broner at 29 that's almost an 11 year gap! Being at a disadvantageous position doesn't necessary mean he'll lose, everything is uncertain before the fight. It was Broner who was wrong for not capitalizing his stamina as a younger fighter against Pacquiao. Although, it was not as overwhelming as the fights in his younger years it was evident that Pacquiao dominated that fight. There were also no rumors nor hearsays against the decision, except for the one made by Broner himself.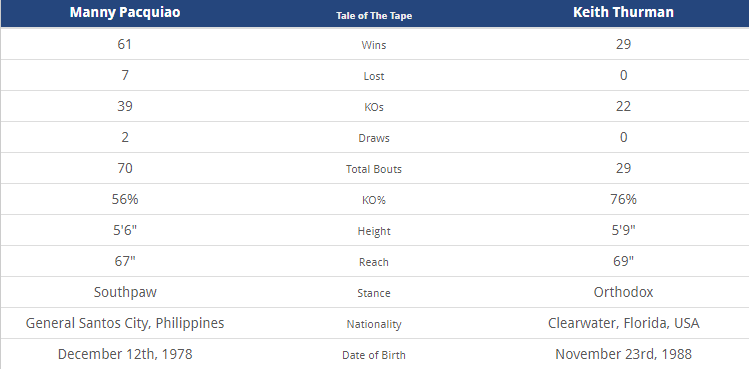 Tale of the tape by FightNights

Footwork as the deciding factor?
Thurman is taller than Pacquaio by 3" and reach longer by 2". For Pacquiao to land punches he will need to stick closer and Keith knows that. In one of his interviews I read that Keith respects the other's speed and power. So much respect that he will need to stay as far possible while landing his hits. Kiting Pacquiao from distance is an effective way of pacifying damage while draining his gas. For Pacquiao to cope he'll need to move faster not only with his hands but most importantly on his feet. Body blows drain alot of stamina and I bet he would love to land some of those on Keith, slowing him down. Pacquiao even at his 40's still has lots of destructiveness in those fists and taking a few would be quite dangerous for Thurman.
Thurman should had his warm up
With that tough fight with Josesito Lopez more than six months, Thurman should had his warm up. Laying off for two years made his gears not functional as they were and it was shown in his latest bout. Thurman undoubtedly won the fight but was his performance a desirable one? I agree with Amir Khan's statement that no matter how great and effective your sparring partners are it cannot compare to the experience of an actual fight, especially that your coming from a 2 year lay off. Pacquiao might be predictable as what Thurman mentioned in the interviews but with 70 matches as an experience, he definitely knows when to grab opportunities. The moment Thurman loses his rhythm and gave an opening, he might just be too late to see what is coming knocking at his doors.
Final Thoughts
As a Filipino, I hope Pacquiao to win this coming fight. But Thurman is a beast at his age and of course a well known knock out specialist. I'm excited and optimistic, not really to see who will win but more on seeing a great fight where both fighters are giving their all.
---
References and Related Readings:
Odds and Predictions by Amir Khan
Lopez and Thurman Twitter Analysis by Brian Mazique
Boxing Career of Manny Pacquiao
---
---