Riccardo Orsolini is continuing his growth process under the technical guidance of Sinisa Mihajlovic, the head coach of Bologna. The player comes from Juventus which bought him from Ascoli FC, the team of his birthplace, in 2017. After Juventus buyed him, Paratici, Juventus' CFO, sold Orsolini without him playing a game in Juventus to the Atalanta FC and then after only 1 half of season he moved again to Bologna.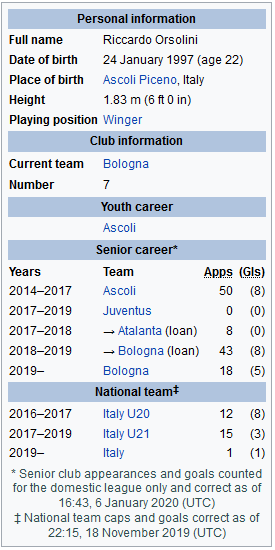 Now it seems he has found himself again and in Bologna he's having a constant improvement. May be he's ready to come back home? The 22-year-old external striker this season has now 20 appearances and 6 goals. Over the weekend, then his goal at Fiorentina, which many can link to the Dybala's goal against
Atletico
(1-0 on 26 November 2019), went around the world via social networks, increasing its fame internationally.
Now Juventus can boast a right of repurchase on the basis of 22.5 million euros in June 2020, which become 30 in June 2021. Even if he does not want to bring it home to keep it, Fabio Paratici could buy it back in order to sell it in turn to the highest bidder, realizing a capital gain, or to achieve prestigious market objectives.
Let's see.
Do you know SWIFTCASH? Come and visit us!
SwiftCash is an open-source, self-funded system of decentralized governance and economy born out of a desire to create a digital store of value with a consistent and stable growth model, as well as a peer-to-peer cryptocurrency for daily transactional use