Sports Talk Social Monthly Visits!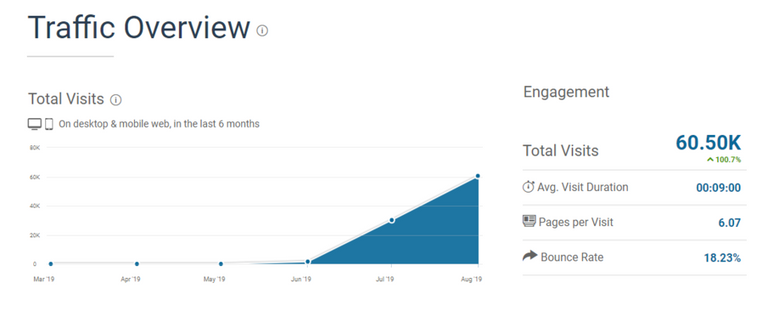 ---
So earlier today I was partaking in a hobby of mine, which is looking at the data of website I visit often and websites I have recently found through the lens of Similar Web and after checking around half a dozen sites, I remembered reading some good news about Sports Talk Social earlier this week and said to myself "wow, I should check out how Sports is doing right now" after all those good news, it should be at least reflecting good on the statistics right? Always trust the numbers after all.
What I found in the picture you already saw above was really surprising, after checking out on a couple of the most popular tribes, it seems like Sports Talk Social is the one that is way ahead of the game when it comes to traffic, at least thats what Similar Web is telling us. Sports Talk is also in the top 500k of sites most visited on the internet which is actually not too bad for how new the site is and you can actually see that fast growth the site is having!
You think all of that is good? Well the situation is even better! Check this one out!

Of all the social traffic the website is attracting, 57% is coming from Reddit and 41% is coming from Twitter! How cool is that? That means that Sports Talk Social is attracting traffic from a lot of the mainstream social media sites and it could really be an amazing tool not only for the community as a whole but for Steem adoption in general and to get more people to know about our blockchain! I can't really wait to see how all of this pans out in the long run but so far, so good! Pretty happy with the current performance of the tribe!!!
---
---