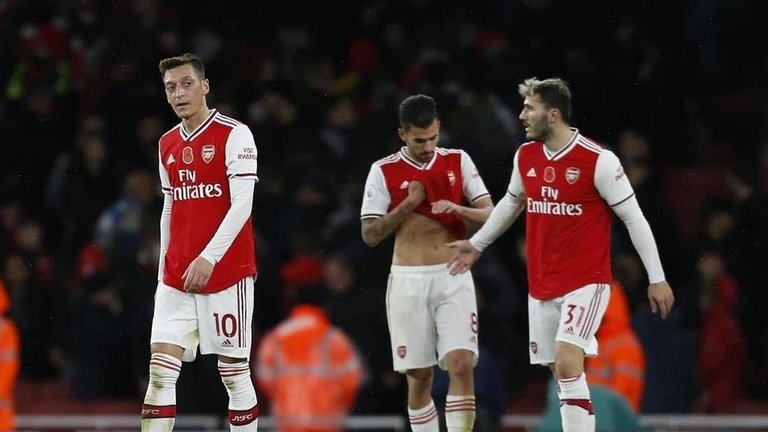 Arsenal have had it tough in recent times. Their form is nothing to write home about, from mediocre draws to embarrassing defeats, all these have piled pressure on the current manager. What could be worse? Another defeat at the hands of the giant slayers. Unai Emery may not come off as a flexible coach, but on a closer look, he may not be all rigid. Some Arsenal players have equally had it tough - Granit Xhaka from the coach, Mesut Ozil from the Coach. Granit Xhaka came under fire after his reaction to the booes by fans in the disappointing draw in their last Premier league outing. It was one poor performance - too many - and fans didn't hesitate to vent their frustration at the slightest chance. It would be logical to conclude that he was left out of this match as a disciplinary action from the coach.
Who came in against Wolves? Mesut Ozil! He got his first premier league start since September. He had hitherto been boycotted by the coach who later explained his decision as mutual for the team. Well, he was given a chance against Liverpool and he gave an incredible performance, assisting one and paving the way for two more. Ozil has always been known to be a classic playmaker. His performance earned him a chance to start again. Nikolas Pepe was left out but we still had a formidable strike force with lacazette and aubameyang up front.
The match started on a low for Arsenal as the visitors not only kept them at bay but equally possessed them. They were rewarded with two chances early on which they failed to make the most of and that they paid for. It proved too costly for them as Arsenal steadily found their feet and fought back. The breakthrough didn't take long enough to come and it was Aubameyang who had it at the back of the net, scoring his 50th goal for Arsenal. It was David Luiz who created the opportunity for Lacazette who then - unselfishly - passed to Aubameyang for a 'simple' finish. The goal gave Arsenal more confidence and they had more chances to extend the lead but it all fell through.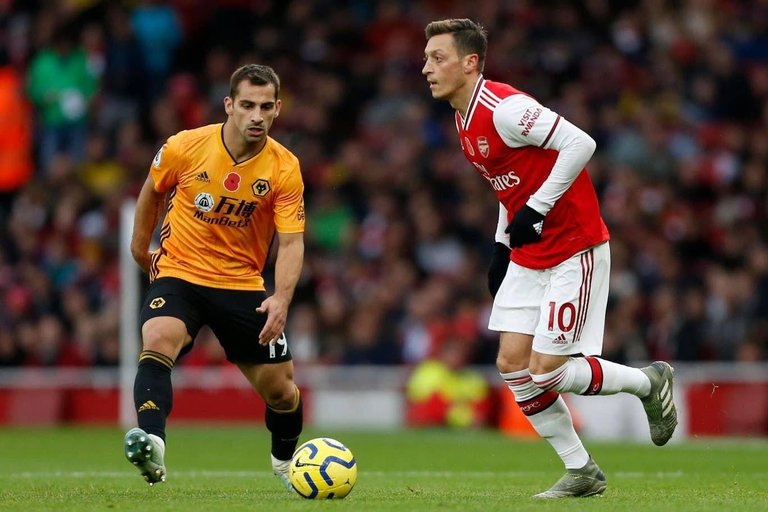 It didn't take too long for Wolves to snap back into the game. Although ever since Arsenal's first goal, they had been at the receiving end, they still looked dangerous on the counter. Towards the end of the first half, they had a huge chance to restore parity but it was Leno who denied them. Given Arsenal's recent results, even a 3 goal lead can't count as a comfortable lead, they are known to give it all away and the 1-0 lead did well to trigger a sense of De ja vu? Could Arsenal be heading to another loss? The first half scoreline just paved the way for more reason to be paranoid.
In just 57 minutes, Wolves already had 9 shots with 5 on target. If not for the Incredible saves from Leno, Wolves would have found the net. But it was only a matter of time. Arsenal had been sitting on a powder keg by giving wolves alot of joy on the front. Yes, they saldy found themselves dragging it out with wolves, fully aware that consecutive draws are dangerous.
The much anticipated goal came and the fans' fears were confirmed. Another avoidable scoreline, but it's only just talk talk. Through out the rest of the match, there came flurry of chances for Wolves, the fight from Arsenal was metamorphosed into a fight survival - not for victory. Same it is on the table, just scrapping for crappy mediocre points. At the end of the day, it was just as envisaged. Bringing more questions to the doorstep of Unai Emery and it is just growing just more stronger. But that is a topic for another day.